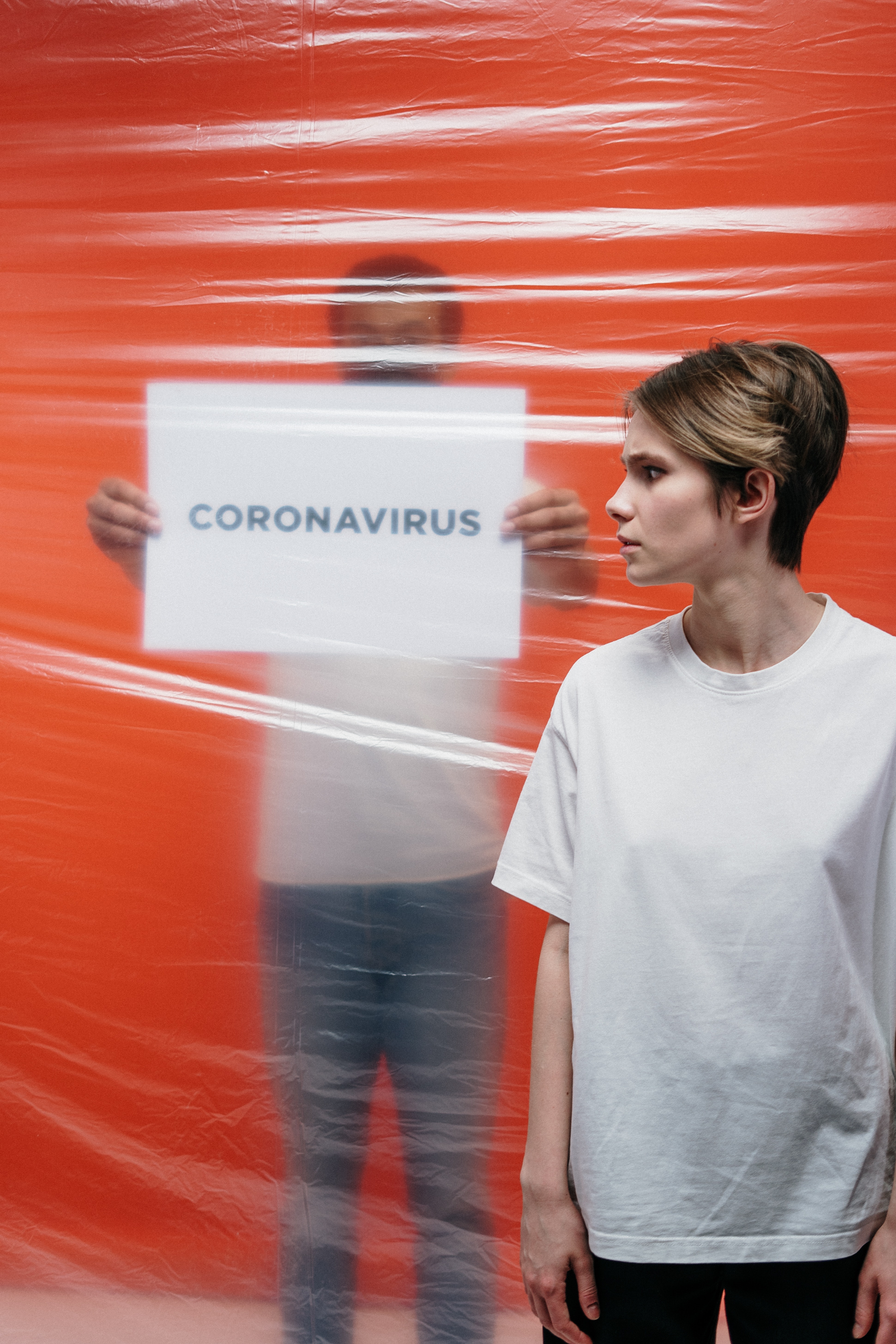 There's really no running away from it. COVID-19 is going to be an annual thing, just like the flu. It's something that I've theorized since the start, and now more and more articles are confirming that this in fact is the likely outcome. [1]
Are governments going to implement lockdowns for a couple of months every year, stopping you from going out unless it's for essentials?
That's highly unlikely, and also not feasible at all.
Going back to "normal" isn't going to happen. So how do we adjust to the new normal, without completely locking ourselves away from the rest of society?
There is a lot to be said about general health and doing well with COVID-19, but new studies are coming out weekly that show that genetics plays a significant role in the likelihood of getting infected, and more importantly the severity of the infection. [2]
I know someone in New York who got COVID that's 70 years old, a smoker, overweight and has diabetes.
He was really worried about COVID given his risk profile, so both him and his wife were very careful. Nevertheless, no matter how careful he was, he still got it.
The thing is he didn't even realize that he had it and only got tested because his wife, who lives a very healthy life, had acute symptoms and tested positive.
The fact that this man was asymptomatic goes to show you how powerful genetics is in this story.
Of course general health has a huge role to play, but I personally know healthy people who got severe symptoms and unhealthy people who were asymptomatic.
People with severe cases of COVID-19 are found to have certain genetic weaknesses that make them more vulnerable to serious respiratory infections. [2]
So living normally means using your genetics to counteract your health weaknesses so you don't have to worry about the yearly coronavirus spread.
By understanding your specific genetic variants, you can implement changes in your lifestyle that will counteract the negative effects of certain genes. So these "genetic weaknesses" that make people more vulnerable can actually be your strength.
How To Turn Weakness Into Strength
What these studies showed is that people with genetic variants that produce low levels of interferons, or hinder the production of interferons, are more likely to experience severe symptoms of COVID-19.
Normally, a cell infected by COVID-19 would release interferons, which then warns the other cells around it to increase their defenses so that the virus doesn't infiltrate them. This stops the virus from spreading and invading your whole body.
COVID-19 already suppresses interferons when it enters your body, so when you carry gene variants that decrease these important defenses even further, COVID-19 will be uncontrolled and easily infect cell after cell.
To look at my genes, I opened the SelfDecode blog and searched "interferon" to find all posts of genes related to interferons.
The list is sorted based on your negative variants, so you'll see all your bad variants at the top of the list.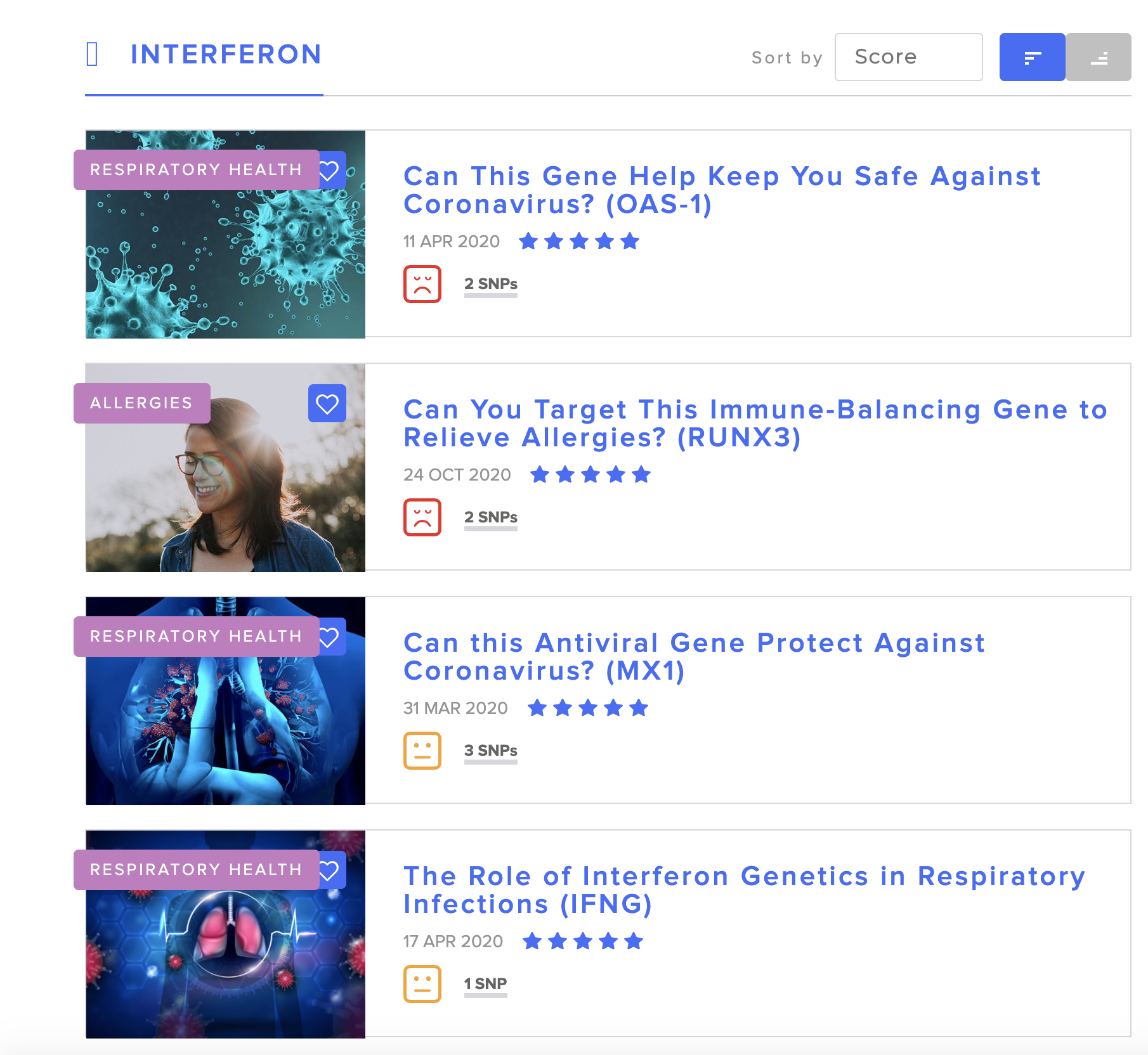 It turns out I have 3 genes related to interferon and respiratory infections that increase the likelihood of issues with viruses like COVID:
The IFNG gene is responsible for coding interferons. The negative variant decreases interferons, making me more susceptible to COVID-19.
The OAS-1 and MX1 genes code for proteins that help our body combat coronaviruses. These proteins can also be activated by interferons.
So if you have the negative variants in these genes and you have other genes that decrease your interferon levels, you're even more predisposed to complications from respiratory viruses.
When I look at my genes, it's clear to me that no matter how "generally healthy" I am, I have serious genetic weaknesses to COVID.
Not only do I have these variants related to interferons, but I have other variants that also show a direct relationship to increased risk from COVID. In addition, I'm blood type A, which significantly increases risk.
However, I'm someone who takes lemons and makes lemonade.
I might have genetic weaknesses to coronavirus, but I can turn it into my greatest strength using the KNOWLEDGE of my DNA.
Learning about my body has allowed me to be healthier than others, even with my genetic weaknesses. The best part is, you can easily do the exact same thing I'm doing.

At the end of each of each SelfDecode blog post, you're given a list of personalized diet, lifestyle, and supplement recommendations that help counteract your genetic weaknesses.
Genetics is your body's blueprint and the fundamental way to learn about your body, and that is all the power you need.
So how can you go back to your normal life and remove the fear that's consumed the world? Use your unique DNA and build a personalized lifestyle that completely optimizes your health.
All it takes is 3 steps to get started:
Upload your existing DNA file or order a DNA Kit from SelfDecode
Look at your Personalized Genetics Blog for interferon related genes, as well as downloading the COVID-19 and Respiratory Infections DNA Report
Implement your personalized recommendations and watch your health improve.