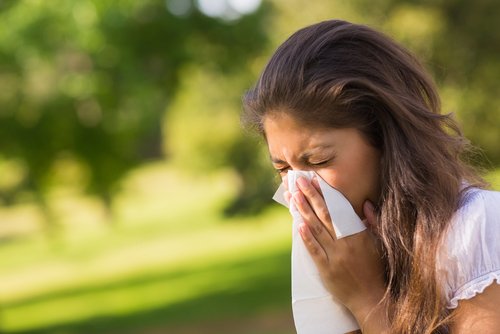 Do you get a stuffy or runny nose when there's pollen in the air? Do your eyes start to itch like clockwork at the same time every year?

Have you woken up with a slight cough and thought…is this allergies or covid?
If you have, you wouldn't be alone. I noticed this come up as the top search suggestion when doing some research a couple of months ago: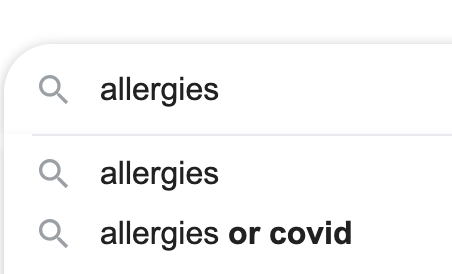 The two key differentiating symptoms of covid are a continuous cough and high fever. These are pretty nondescript, but it really made me realize how, for people in non-remote jobs, this could be a real problem.
It must be so frustrating waking up in the morning even with a simple cough. What in the past would barely have been noticeable now means an uncomfortable test, self isolation and missed work.
So that got me thinking about how I can help these people.
My solution?
To help people use their genes to identify what could be causing their allergies and provide them with personalized tips to stop these symptoms at their root cause – malfunctioning genes.
That's why I had my team develop a specialized Allergies DNA Report that outlines the most common allergy-causing genetic variants and the best scientifically proven ways to counteract them.
One gene in the report is NFATC2, which is important for our body's ability to produce proteins for our immune system. If you have a bad variant of this gene, your immune system can become unbalanced through too much Th2 activity.
But, probiotics like L. gasseri can reduce Th2 activity, so would be a great choice for someone who has this genetic variant making them more likely to experience allergies.
It's critical if you're noticing a cough now more than ever and don't have covid that you identify your allergy causing genes and counterbalance their effects with little tweaks to your everyday routine, otherwise you're likely to experience a lot of these frustrating instances in the not so distant future!
Spring is coming…and if you're a part of the 1 in 4 who suffer from allergies, you know what that means.
Let me help you get back some of your old normal today!
Our brand new Allergy DNA Report analyzes 33 genes related to allergies and provides personalized supplement, diet and lifestyle recommendations to help you counteract your bad variants.
You can get your results after ordering one of our own DNA test kits or uploading an existing DNA file from another company.
An annual subscription to SelfDecode is ONLY $97, or you can get lifetime access to all current and future features and benefits for a one-time payment of just $297 (and we've got some pretty amazing new features coming out soon that I can't wait to tell you about!).
Plus, you won't just get the brand new Allergies DNA report when you sign up for SelfDecode, you'll also get:
All current & future reports with a lifetime membership or 5 Premium DNA Wellness Reports with an annual membership (Including Allergies, Food Sensitivities, Mood, Inflammation, and more)
Full Access to the Personalized Genetics Blog – get personalized health articles on a daily basis with recommendations on how to counteract negative genes
Exclusive membership discount on additional reports for annual members
Full Access to Lab Test Analyzer
All current and future Risk Assessment Tools
Symptoms & Conditions Analyzer