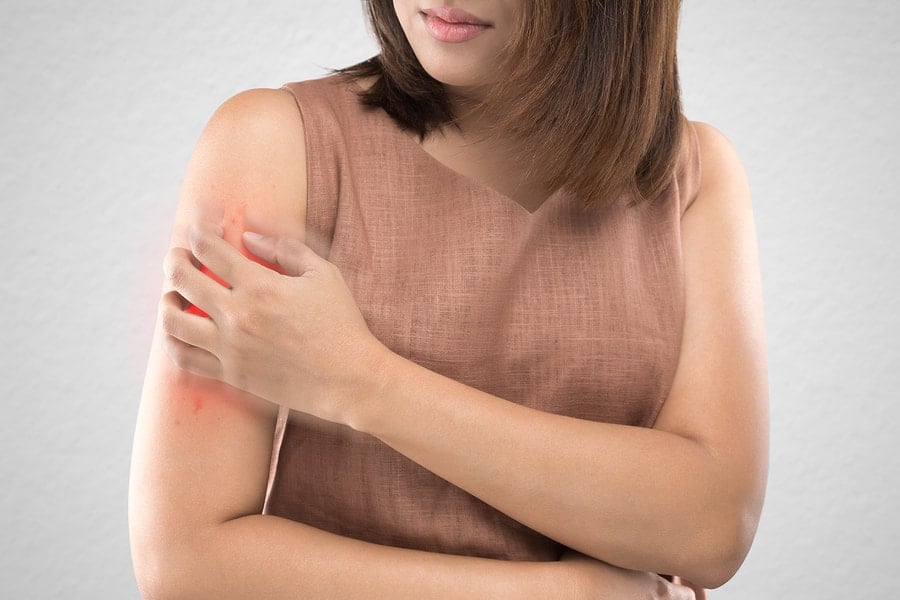 Did you know that eczema isn't just having dry, red, itchy skin? It can also lead to sleep issues like being tired in the daytime, or even insomnia.
That's because when your brain completes a sleep cycle, you have a short arousal period where our brain wakes up briefly and then returns to sleep.
For most people, that isn't a problem. They just move into the next stage of sleep, but for someone with eczema, the itching sensation kicks in and suddenly the reflex of scratching begins.
Then, you wake up tired and feeling not well-rested.
Even more importantly, when you don't address the underlying cause of your eczema, you can end up with other issues.
That's because at the root of eczema is inflammation, which is often caused by genes that aren't working like they should be. Those same exact genes are often to blame to conditions like asthma or allergies.
The good news is that you can address multiple issues at once by targeting the same genes!
Example: Skin Inflammation and the BCL6 Gene
The BCL6 gene helps prevent skin inflammation (and prevent other allergic reactions) by reducing interleukin-4 (IL-4) production. Certain genetic variants of this gene reduce BCL6 activity and increase IL-4 levels, leading to an increased risk for eczema.
However, increasing your intake of fermented foods (kimchi, fermented seafood, yogurt, etc.) can actually lower IL-4 levels!
Eczema & Histamine Intolerance
Some people with eczema might think that fermented foods are a problem, but that's only with people who have histamine intolerance.
Luckily, in our food sensitivity report, you can check your histamine intolerance risk, as a companion to the eczema report.
To find out the eczema remedies you need to try, you should take a look at your genes.
Our brand new Eczema DNA Report examines 32 different genes related to eczema and provides you with a list of 10+ supplement, diet and lifestyle recommendations to help you address your dry, itchy skin.
Plus, when you sign up for SelfDecode, you'll have access to our 30+ other DNA reports on topics like Allergies, Sleep, Acne, Food Sensitivities and more!
With a SelfDecode membership, you'll also get:
All current & future reports with a lifetime membership or 5 Premium DNA Wellness Reports with an annual membership (Including Allergies, Food Sensitivities, Mood, Inflammation, Sleep and more)
Full Access to the Personalized Genetics Blog – get personalized health articles on a daily basis with recommendations on how to counteract negative genes
Exclusive membership discount on additional reports for annual members
Full Access to Lab Test Analyzer
All current and future Risk Assessment Tools
Symptoms & Conditions Analyzer
Just upload an existing DNA file you already have or get your genes tested for the first time with our highly secure DNA Test Kit!