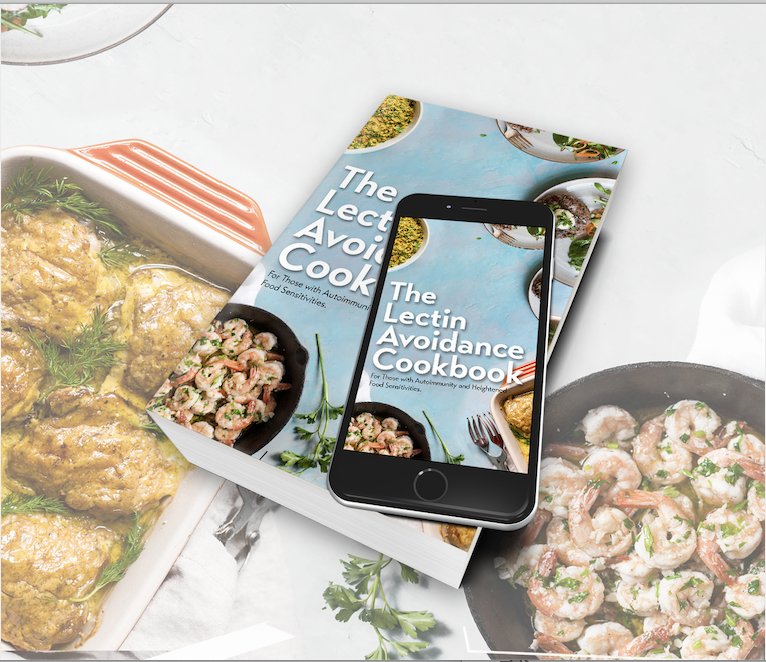 This cookbook is for people who are sensitive to many foods but still want to enjoy great tasting meals. This ebook is for people with autoimmune issues, chronic inflammation, IBS, IBD, CFS or anyone who wants some recipes and support to successfully manage these health conditions through diet. It includes not only a collection of recipes but also a protocol to help you figure out the diet that works for you.
We have updated the cookbook, which now has 84 93 recipes and counting, and food lists and many tools to help you successfully manage your health conditions. We have also added the Companion Guide and bonuses that will help you determine which food substances may cause problems for you.
After you pay for the ebook, you will be redirected to a link where you can download the ebook. The redirect takes about 5-10 seconds, so be patient. If you have any issues, email [email protected].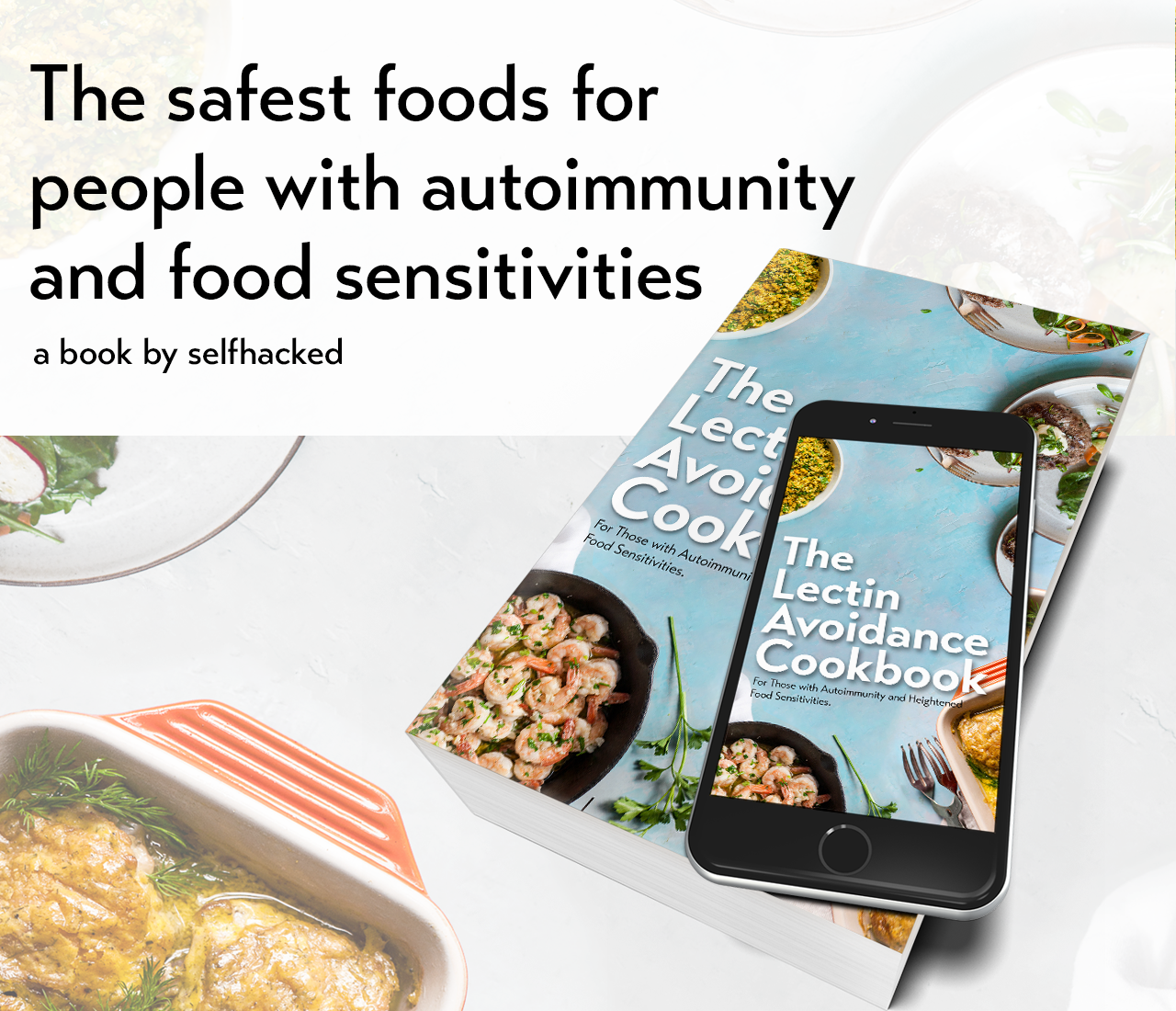 Why Make a Cookbook?
At Selfhacked, our purpose is to develop a body of knowledge and the necessary tools (SelfDecode) to help people heal from chronic illness and become optimal.
The Lectin Avoidance Diet post currently gets over 80,000 views a month. I named the Lectin Avoidance Diet as such because I think that lectins are the single major trigger of autoimmune disease. However, they are not the only trigger.
But the question I keep getting in my consults and on the blog is "what do I eat? Do you have any recipes or meal plans?"
Although no one size fits all, if you look at all of the substances that trigger the immune system and cause chronic inflammation and autoimmunity, a consensus starts to emerge of foods that a majority of people can and can't eat.
What Are The 8 Pillars of Health?
Diet is one of my 8 pillars to becoming optimally healthy.
The Big 8 Factors that cause disease and suboptimal performance:
Diet
Sleep
Lack of Sun and Light
Disturbed Circadian Rhythms
Excess stress and unhappiness
Lack of natural stressors
Toxins
Infections/Injuries
Substances in Foods That Can Cause Immune Reactions
I've identified some common substances found in plant-based foods that can be problematic when people have autoimmune issues. They are:
What's Different About This Cookbook
Most of the other cookbooks are inadequate because they put in too many ingredients that aren't allowed for people suffering from autoimmune or chronic inflammatory issues. This cookbook isn't perfect, but it should give helpful recipes to everyone, no matter what your exact food requirements are.
The ingredients used are relatively low in lectins, tannins, histamines, oxalates, mycotoxins, and sugar. They are also gluten free, dairy free (except some recipes have ghee, which could be swapped with another cooking fat) and low carb.
Paleo and Autoimmune Friendly
Everything in this cookbook is "paleo" and autoimmune friendly. Many of the recipes are low carb.
I include my recipe for making cookies if you're sensitive to EVERYTHING, so don't forget to check that out.
Who is This Cookbook For?
This cookbook is for anyone with autoimmune diseases, inflammatory health conditions, or simply a healthy person who simply wants to figure out what foods may hamper their performance.
For a while, I was mixing powders that didn't taste very good, but I just gulped it down. I realized that I can eat the same ingredients in a concoction that actually tastes really good and is super healthy for me.
Through this, I've been able to save a lot of time for food preparation by making my hi-maize cookies.
This cookbook keeps in mind all of the concepts that I speak about throughout the blog.
How to Manage Inflammatory Health Conditions Through a Diet
The lectin avoidance diet and the cookbook are not to be taken as gospel. Rather, it is a starting point for self-experimentation, to test out what works or doesn't work for you. In the updated version of the lectin avoidance diet cookbook, we include a protocol to figure this out.
Resources in the updated cookbook include
The Lectin Avoidance Diet Food List (Click on the link for free download)
How to do an elimination diet to figure out the best diet for you
Strategies to successfully follow the lectin avoidance diet
Strategies to afford high-quality meat and produce
Autoimmune Friendly Scores
Since everyone is different in the degree to which they have food sensitivities, I give a score by each recipe to let you know how friendly it is to people with chronic inflammation from food or autoimmune issues.
The scores are subjective, but I still think they are useful.
The scores range from 5-10. There is no recipe that is under a 5 here because making a score lower than 5 would suggest that it's not friendly to people with autoimmune issues.
Every recipe here is already friendly to the majority of people with autoimmune issues. But I realize that for some clients, myself and people with enhanced food sensitivities, they may only want to eat the foods which don't provoke immune reactions at all.
For most people, an immune reaction from food is healthy because their immune system is weaker. But for people with autoimmune issues, the immune system is overactive.
If you're already feeling your options are limited, then you can discard these scores and the notes attached. I just feel that for the people who still have some issues, they should know which foods to experiment cutting out.
Recipes in the Book (So Far)
Breakfast and Brunch
1) Carob Protein Shake
2) Matcha Collagen Shake
3) Maple Sage Turkey Sausages
4) Scandinavian Warmed Berries
5) Vanilla Bean Coconut Cream
6) Cinnamon Breakfast Porridge
7) Coconut Crusted Salmon & Avocado Breakfast
8) Asparagus Flan
9) Black Sesame Porridge
10) Creamy Avocado Shake
11) Raspberry Avocado Shake with Collagen
12) Coconut Hi-Maize Waffles
13) Salmon Quiche
Breads & Quick Breads
14) Herbed Flatbread (Egg-Free)
15) Pumpkin Scones
Main Dishes
16) Coconut Milk Alfredo Sauce
Autoimmune friendly score: 8
17) Zucchini Noodles
MAIN DISHES: FISH & SEAFOOD
18) Salmon Cakes
19) Golden Grouper with Chives
20) Asian Salmon
21) Roasted Garlic & Herb Sardines
22) Pistachio-Crusted Halibut with Cilantro
23) Honeyed Cod
24) Honey Mustard Salmon
25) Hemp Pesto-Crusted Tilapia
26) Garlic-Ghee Shrimp
MAIN DISHES: BEEF
27) Low Lectin Beef Stroganoff
28) Swedish Meatballs
29) Low Lectin BBQ Beef Brisket
30) Korean Beef Lettuce Wraps
31) Basil Bison Burgers
32) Grass-fed Beef Round Steak Dredged in Hi-maize
33) Braised Chuck Roast
34) Honey Mustard Ribs
35) Low Lectin Sliders
MAIN DISHES: LAMB
36) Moroccan Lamb Burgers
37) Moroccan Spiced Cauliflower Couscous
38) Mediterranean Lamb Meatballs
MAIN DISHES: CHICKEN
39) Grilled Rosemary Chicken Thighs
40) Turmeric Thyme Roast Chicken
41) Lemon Rosemary Roast Chicken
42) Curried Chicken Salad
43) Chicken with Curry & Dill Sauce
44) Duck Breasts in a Honey Glaze
45) Low Lectin Baked Chicken
46) 1-Pot Instant Pot Turkey
ORGAN MEATS AND ODD BITS
47) Hemp & Sage Crusted Broiled Liver
48) Fried Liver with Hi-Maize
49) Beef Tongue Preparation
50) Beef Tongue Steak with Mustard Sauce
51) Beef Tongue Carnitas
52) Middle Eastern-Style Beef Heart Steak or Kebobs
53) Beef Heart & Root Vegetables in the Pressure Cooker
54) Chicken or Turkey Bone Broth
55) Beef Bone Broth
56) Pork Bone Broth
PRESSURE COOKED OPTIONS
57) Purple Sweet Potatoes
58) Pressure Cooked Spaghetti Squash
59) Pressure Cooked Marinara
DESSERTS and SNACKS
60) Coconut Hi-Maize Snickerdoodles
61) Pure Hi-Maize Snickerdoodles with MCT
62) Hi-Maize Brownie Cookies with MCT
63) Brazilian Hi-Maize Biscoitos
64) Vanilla Bean Chia Pudding
65) Carob Avocado Pudding
66) Joe's Hi-Maize Cookies (Hemp Version)
67) Joe's Hi-Maize Cookies (Cricket Version)
68) Caramel Hemp Seed Porridge
69) Coconut Pomegranate Bark
70) Matcha Chia Pudding
71) Carob Coconut Macaroons
72) Grass-fed Beef Gelatin Marshmallows with Hi-maize Coating
73) Honey Grass-fed Beef Gelatin Marshmallows with Hi-maize Coating
BEVERAGES
74) Festive Cranberry Hi-Maize Smoothie
75) Matcha Pistachio Bark with Coconut Milk
76) Spiced Golden Milk
77) Rooibos Lemonade (Arnold Palmer)
78) Spiced Apple Cider with Rooibos
SOUPS AND SIDES
79) Thai Coconut Soup with Chicken & Vegetables
80) Salmon Chowder
81) Olive Garden Zuppa Toscana – Senza Lectins
82) Purple Sweet Potato Soup (Instant Pot)
83) Creamy Kohlrabi Side
84) Anti-inflammatory Coconut Milk Cheese (with Hi-Maize!)
85) Roasted Brussel Sprouts
86) Pesto-Flavored Roasted Broccoli
87) Cilantro Lime Cauliflower Rice
88) Purple Cabbage Slaw
89) Cauliflower Mash
90) Cucumber Salad
91) Super Simple Gourmet Salad
92) Kale & Sweet Potato Salad
93) Dandelion Salad with Apple Cider-Mustard Vinaigrette
If you buy this book, you will have a lifetime of access to it and all future updates.
Help Us Create Better Content!
By purchasing this book, you will be supporting me in creating more and better content and better tools to help the world heal from chronic illness.
If you have recipes that are safe in the lectin avoidance diet, please do send them my way!
I am optimistic that with better information and better tools, we can do great things and accelerate people's healing and become optimally healthy.
Real Reviews of the Lectin Avoidance Cookbook
"Hey Joe, I've been loving these recipes. I just wanted to give some brief feedback and impressions on everything I've made thus far. Also, I wanted to drop a recipe for carob avocado mousse that I found in the wild that I adapted to be friendly to these parameters.
Carob Protein Shake
Recipe #1 – Perfect as-is, full-fat canned coconut milk does not work well as a replacement for thinned milk (native forest light)
Maple Sage Turkey Sausages
Recipe #3 – Delicious. Used xylitol in lieu of erythritol.
Vanilla Bean Coconut Cream
Recipe #5 – Dope.
Cinnamon Breakfast Porridge
Recipe #6 – Long prep time; hard to make for morning meal under time constraints. Touch bland, but otherwise not bad. May not make again.
Creamy Avocado Shake [Smoothie?]
Recipe #10 – Love this. Can be made quickly in nutribullet.
Cilantro Lime Cauliflower Rice
Recipe #24 – Very refreshing, like making this one.
Swedish Meatballs
Recipe #29 – Mistakenly added broth in initial mixing (maybe change the wording to: "add all ingredients, except broth")
Cauliflower Mash
Recipe #30 – Long prep time. Okay.
Pure Hi-Maize Snickerdoodles with MCT
Recipe #45 – Delicious. Usually ended up with an excess of coating mixture when splitting to eight cookies. Could even double up cookie quantity while retaining an abundance of coating mixture to have it match more evenly.
Hi-Maize Brownie Cookies with MCT
Recipe #46 – Tasty. Made twice and came out slightly dry, crumbly both times. I suspect that the gelatin did not mix well with the mixture; it may have stuck to the bottom of the mixing container. Small typo with "1/3 [cup] MCT…".
Brazillian Hi-Maize Biscoitos [Biscotti?]
Recipe #47 – New favorite. Had to bastardize the recipe slightly when making – only had 1/4 cup xylitol, had to fill the rest with many packets of Truvia. Even still, the recipe turned out amazingly. Definitely going to be making this one regularly, except with erythritol.
Vanilla Bean Chia Pudding
Recipe #48 – Delicious.
Vegan Carob Avocado Mousse
I used full fat coconut milk, vanilla powder, and honey. I suspect using light coconut milk and vanilla extract would turn out a bit better."
30-Day Money Back Guarantee
Try my meals and if you don't start feeling better within 30 days, I will give you 100% of your money back!
Or if you're not happy with the cookbook for whatever reason, request a refund within 30 days and I will refund your money!
Buy The Lectin Avoidance Cookbook
This post contains sponsored links, which means that we may receive a small percentage of profit from your purchase, while the price remains the same to you. The proceeds from your purchase support our research and work. Thank you for your support.