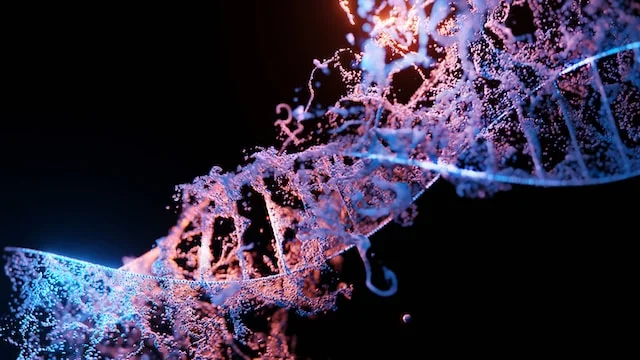 Have you ever thought about the digital revolution and how it has transformed our lives? The answer is likely at your fingertips – literally.
Steve Jobs, the legendary founder of Apple, initially faced skepticism and ridicule for his vision of a personal computer in every home.
Back then, computers were only seen as tools for businesses and research institutions.
But his vision, backed by a community of believers, got us to where we are today: a world with life-changing technology in every house.
Similarly, I think we are going through the same thing with DNA analysis and personalized health.
The majority of people will tell you that genes are way too complex for the average person to understand and so we should leave the analysis exclusively to labs, research institutions, and professionals.
These people don't understand that technology has advanced exponentially, and tools like SelfDecode have been created to analyze your DNA and give you personalized insights in an easy-to-understand way.
It's pioneers like you, our SelfDecode community, who will change this mainstream narrative.
Without the unwavering support of the Apple community, the personal computer revolution wouldn't have taken place.
You stand at the forefront of the revolution in personalized health, and your support today will lay the foundation for a healthier world tomorrow.
How SelfDecode is the Apple of personalized health
One of the most studied genes in genomics – because of its huge effects on almost all of your bodily functions – is the COMT gene.
COMT helps break down many different types of neurotransmitters, like:
Dopamine – the "happiness hormone" responsible for motivation, learning and memory, increased focus and more
Norepinephrine – manages the body's response to stress, important factor of the fight or flight response
Epinephrine – high levels of epinephrine can cause a weak immune system and heart problems
Estrogens – plays roles in sexual reproduction, brain health, cancer risk, and more.
So, your COMT activity might be to blame for your mood issues (like anxiety, depression), your cognitive function (brain fog, lack of mental clarity), and even your risk of developing many different types of cancer.
Imagine keeping DNA analysis locked away in labs, when simply knowing your COMT gene variant could drastically transform your life?
The beauty of SelfDecode is that our AI-backed software analyzes the genes for you, references it to scientific, peer-reviewed studies, and then gives you information on what those results mean for you and your health. No PhD needed!
By looking at my COMT DNA Report, I can see that I have typical COMT activity, based on my genetic variant.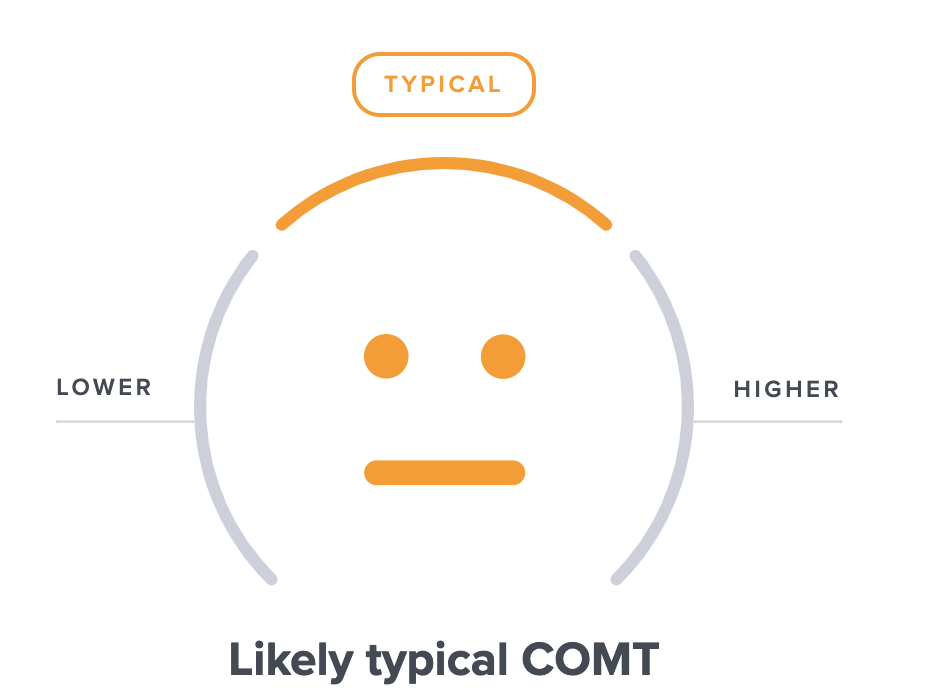 On top of that, I can see that I have recommendations personalized based on my DNA, so that I can improve my COMT activity and optimize mood, cognitive function, and hormone imbalances.
Folate, Green Tea, and SAM-e are 3 that are high on my list.
SAM-e is an important molecule that supports the function of COMT by providing the methyl group that COMT uses to break down dopamine, norepinephrine, and epinephrine.
When COMT breaks down these neurotransmitters, it helps to regulate their levels and prevent overstimulation of the neurons, causing the issues listed above.
This wealth of knowledge is easily available to you – and this is only looking at one gene.
SelfDecode also looks at millions of other genetic variants to provide you with easy-to-understand, life-altering insights.
You can make changes in your life that will improve your health in ways you can't imagine, just by looking at your DNA.