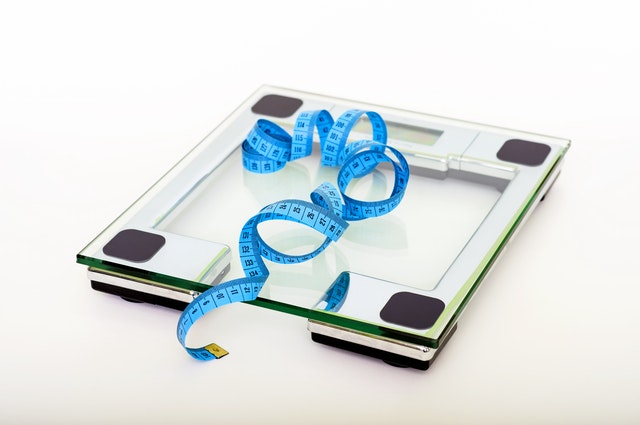 People have been asking for this DNA Wellness Report for a long time… The Weight Report.
It's answering questions like:
Do my genes make me more likely to be overweight?
Which diet is best for my DNA and will help me lose weight?
Are there supplement or lifestyle changes I can use to reach my goals faster and easier?
This is all in our BRAND NEW Weight Report that analyzes thousands of genes and over 455K genetic variants total.
This report is going to help you reach the target weight you've been struggling to get to for years.
Included in your weight report is a personalized list of diet, lifestyle and supplement recommendations to help you reach your target weight.
It's the ULTIMATE plan, because it's made specifically for your body.
Because we're analyzing so many variants, it also makes it the most accurate weight DNA report on the market. Looking at one or two genes to find out what your genetic risks and recommendations should be is an old, inaccurate, and outdated way of genomics.
Despite new advances in science every day, many other companies are still doing things the old way. Just check out my results from a very popular DNA testing company and how many genes they're analyzing.
Competitor Reports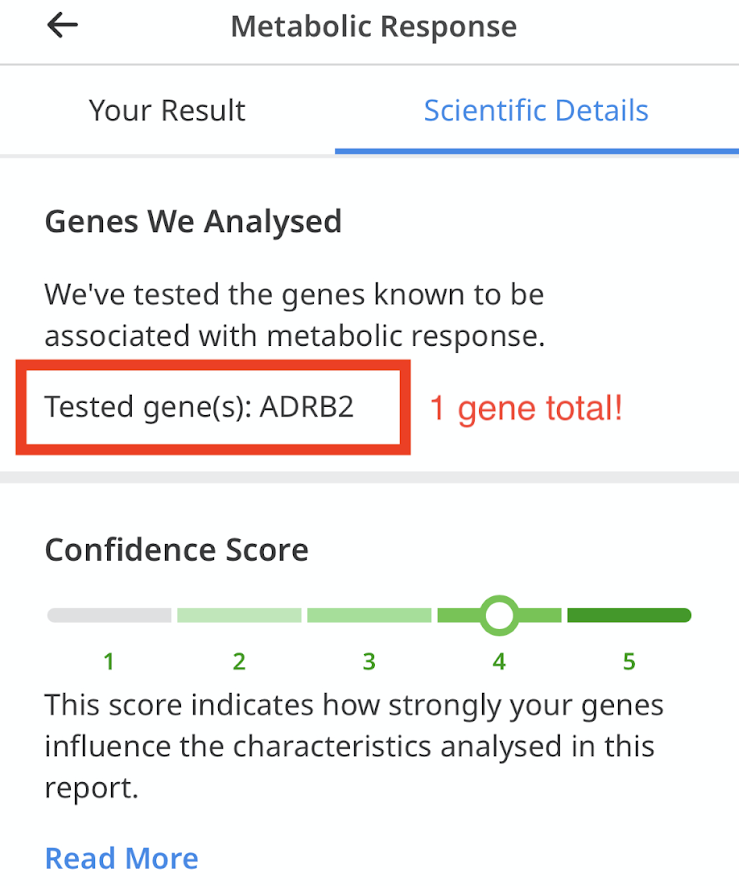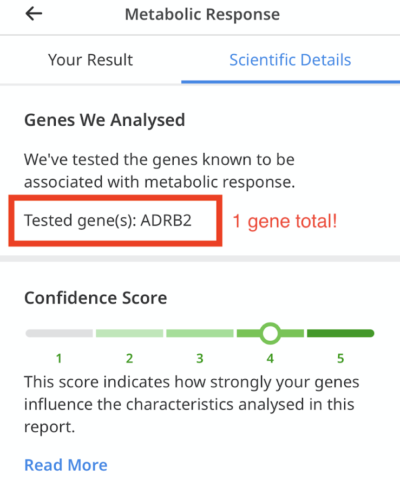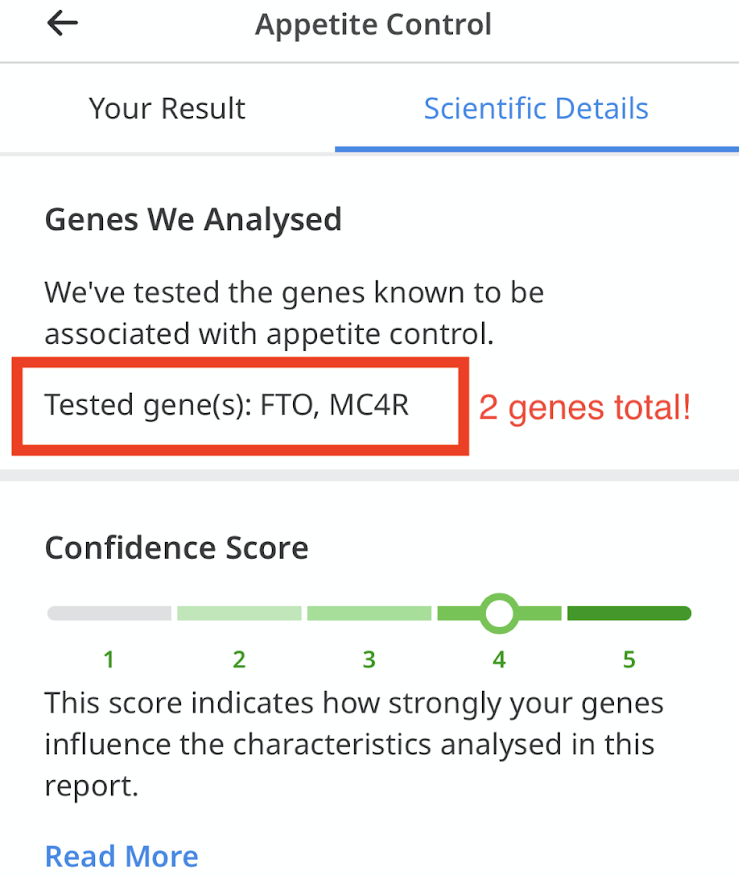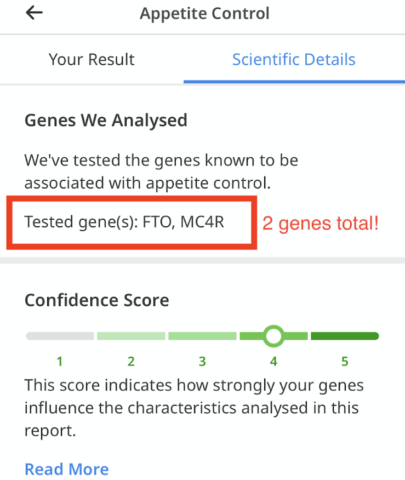 SelfDecode's Weight DNA Report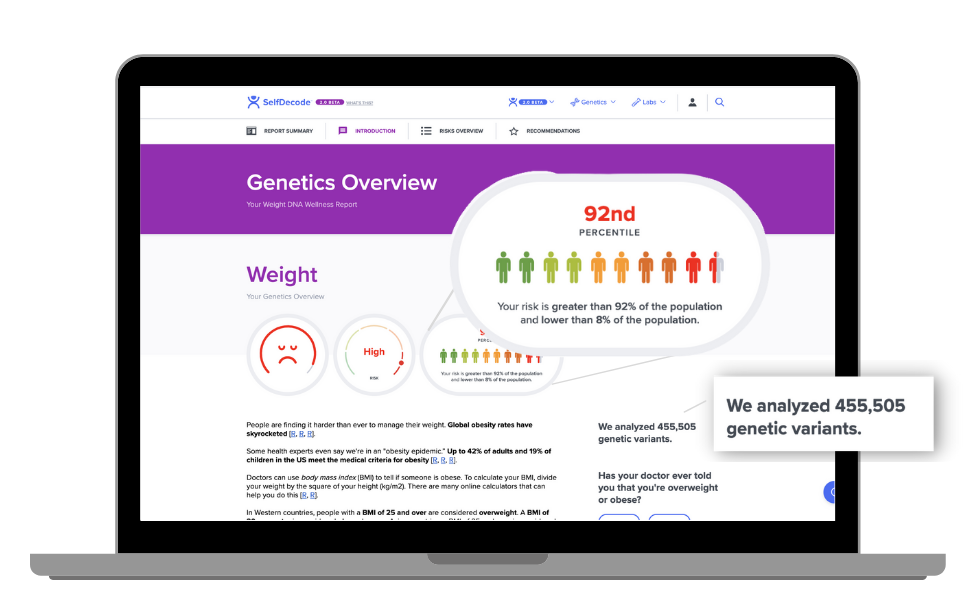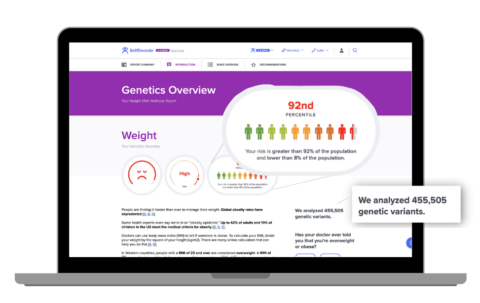 Get the most accurate and personalized Weight DNA Report in the world.
We're using the most advanced AI in genomics and machine learning to provide you with the most comprehensive weight report out there.
While other companies are only giving you a part of the whole story – SelfDecode is giving you the FULLEST picture of your health possible.
It's true that reaching your target weight doesn't just happen – but our brand-new Weight Report helps you understand the effect that your genes have on your weight, and why some methods of reaching your target weight might work better for you than others.
Some people struggle with weight issues for their entire lives. There are so many challenges, diets, and work out routines that promise results – but they don't always work for everyone.
Reach your goals by checking your genes and find out what works for you with a personalized weight plan that was made for your unique body.