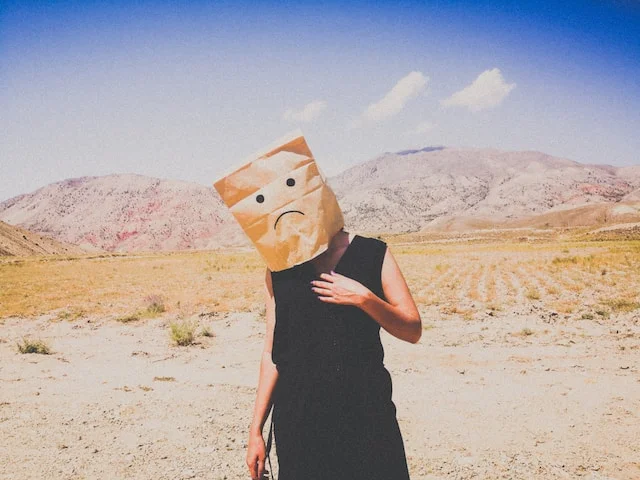 When talking about mental health, I hear a lot of people say things like "running is my therapy" or "the gym is my therapy."
But, is that really enough?
Without a doubt, exercise is one of the most effective ways to improve your mental health and cognitive performance.
There are plenty of scientific studies that back up that claim.
When you exercise, your brain produces more of certain chemicals that make you feel good, like serotonin – which helps regulate your mood and sleep – and dopamine, which is associated with feelings of pleasure and satisfaction.
But, I was able to dramatically improve my mood by adding specific supplements into my life.
So what's my take on this?
I think that exercise, combined with sleep and a healthy diet are all foundations for better mood.
Even if you take a hundred supplements but are lacking in any one of these 3 foundational pillars, you won't see the results you aspire to achieve.
But, after developing the foundation, it's the supplements that can take your mood to the next level.
Discovering what supplements are best for you all starts with understanding your DNA.
Here's how I used my genetics to optimize my mood.
Looking At The Mental Health Section Of My Report
SelfDecode has a Brain Health Summary Report, which looks at 4 main categories:
Mental Health
Cognitive Problems
Addiction & Eating Problems
Cognitive Traits
If you take a look at my mental health section, I have a high predisposition to low mood, or depression, as well as several other reports that are typical likelihood.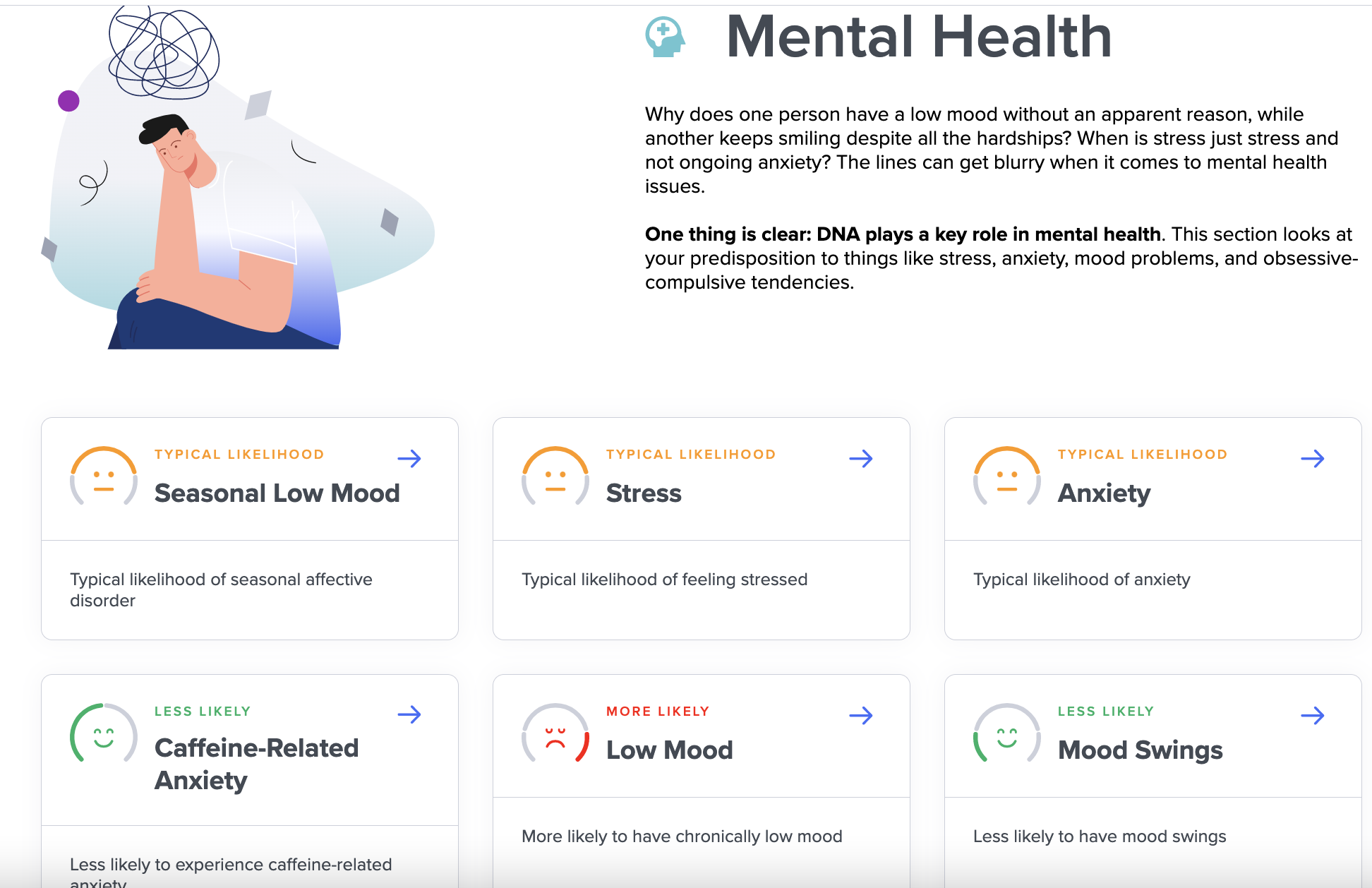 This was definitely the case for me before I started my health journey, and I even suffered from low mood again a few years back.
My initial focus was to break out of my constant state of anxiety, depression, and the inability to deal with stressful situations.
While my genetic predisposition towards stress and anxiety isn't high, my lifestyle before I began my biohacking journey was inadvertently pushing me towards a state of heightened stress and anxiety. This included not eating properly, sleeping horribly, and barely exercising.
After fixing these, the biggest game-changing supplement for me was 5-HTP, mainly due to the TPH2 gene and the negative genetic variant I carry.
The TPH2 gene encodes an enzyme that is involved in the synthesis of serotonin, a neurotransmitter that plays a crucial role in mood regulation, among other things. My variant wasn't properly encoding this enzyme, which left me with very low serotonin.
I also have the negative variant of the HTR2A gene, which affects how your body reacts to serotonin.
5-HTP helps counteract these genes and was able to boost my serotonin levels drastically, helping me break out of the low mood I had been feeling for years.
This had taken me years to figure out. But if I just had SelfDecode, I would've got the answer in minutes.

Even though it seems obvious now, there are millions of genetic variants and before SelfDecode, I had no way of knowing which ones I should start looking at.
When SelfDecode took off, I put less of an emphasis on optimizing my mood and more on my cognitive performance.
I was now the CEO of a company with 60+ employees, so my priorities shifted.
While my stress issues and anxiety didn't return, I occasionally felt a little down by the end of the night.
But this time, instead of spending thousands of hours of research trying to figure out what was happening, I just opened up SelfDecode.
One of the top recommendations in the Brain Health Summary Report was Omega-3 Fatty Acids. I had previously removed this from my supplement stack as I thought I was getting enough from my food but, it turns out… it helps with a lot of things.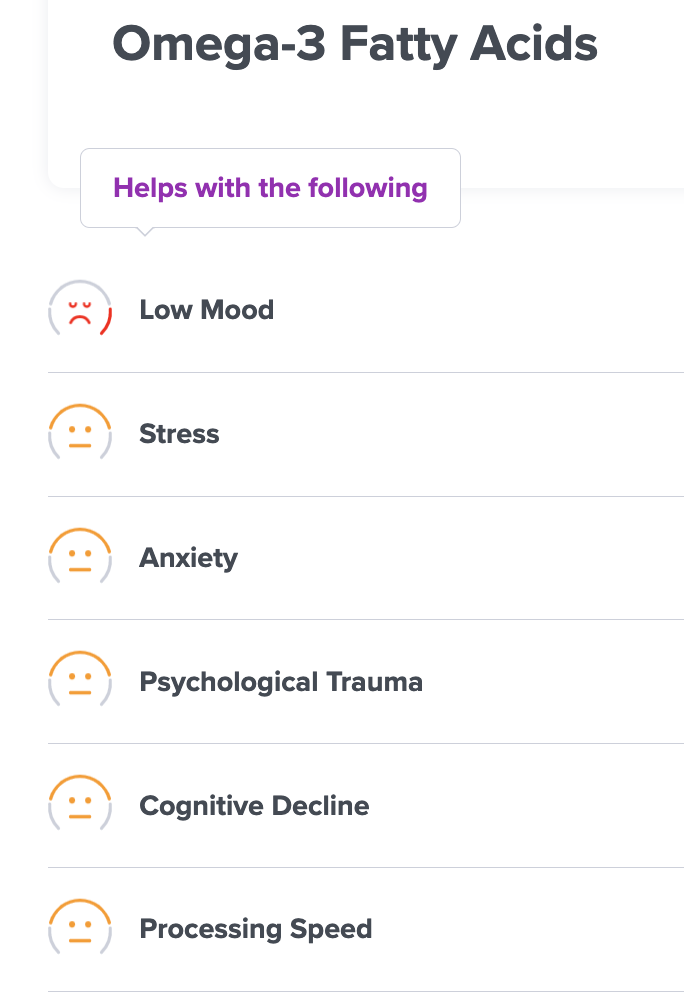 After re-introducing it into my daily regimen, I was completely back to normal and feeling my best.
Start Improving Your Mental Health
This month is Mental Health Awareness Month, so I think that it's important to highlight my journey with mental health for 2 reasons:
I wanted to show you that mental health is an ongoing process, as I'm continuously focusing on how I can improve my mood and I constantly "take inventory" of my emotions so that I can take actionable steps if need be.
I didn't start out free from stress, anxiety, and depression. In fact, it took a lot of work and trial and error to get to where I am. The great thing is that you can do exactly what I did, but with much less time and more success.
You don't need to manually research your genetics and supplements anymore, SelfDecode does all that for you.
If you sign up today, you'll receive the Brain Health Summary Report, plus:
17+ Summary Reports
300+ Health & Trait Reports – These include Stress, Anxiety, Low Mood, and so many more DNA Reports that you can use to implement my approach yourself with any health topic you want to solve!
Unlimited access to Lab analyzer tool – upload your labs and track your results
Access to Personalized Genetics Blog – over 600 blogs that change based on your DNA
SNP & Gene Explorer
Lifestyle Analyzer