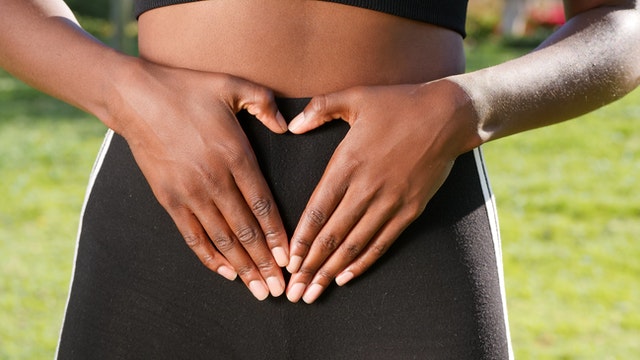 Have you ever gotten that feeling of butterflies in your stomach?
Maybe a first date made you feel it when you saw them for the very first time, or you might notice it before an important job interview…
The reason you might sometimes feel your emotions in your stomach is because your brain and your gut are closely connected.
While it's completely normal to feel those butterflies from time to time, many people don't realize how important it really is to support your gut health.
Why?
Because your gut is SO much more than just food moving through your intestines.
In fact, 90% of your serotonin is produced in your gut! So, it's really no surprise that if you're experiencing gut issues, you might also be experiencing things like low mood, anxiety, stress, or even depression.
You might not even realize that you have gut issues and have just been dealing with the negative side effects, like feeling stressed and worried all the time.
Gut issues were something I had dealt with for YEARS before I got my health under control.
It took a lot of research, most of my time, and A LOT of money on supplements and other treatments when I first started my health journey.
If you're just starting out on your own journey to optimal health, your gut should be one of your main concerns. Besides the risk of anxiety issues, poor gut health can be a trigger for many other health problems. And the first step to finding what works best for your body starts with your genes.
The future of health lies in the ability to understand our genetics. Getting a clear picture of our health and using that to not only optimize it, but prevent other issues from arising in the future is why I created SelfDecode!
Now, my Gut Health Report tells me everything I need to know so I can improve my digestive health. For example, my TNF gene variant may contribute to gut inflammation and IBS, and probiotics can support my gut by fighting "bad" bacteria and reducing inflammation.
If you have gut issues like me – following an elimination diet (like gluten or lectin free) can help identify the foods that are causing irritation, bloating, or inflammation in your gut.
Adding resistant starch to your diet can be a great way to start because it's gluten-free, lectin-free, and is a prebiotic, meaning that it's a good source of food for your gut's healthy bacteria – and it's one of my newest supplements at GetJo.co!
That's why understanding your genes is so important, because then you can choose supplements and make health changes that are right for your body.
So, the next time you get a "gut feeling", try to listen to it – your second brain might be trying to tell you something 😉