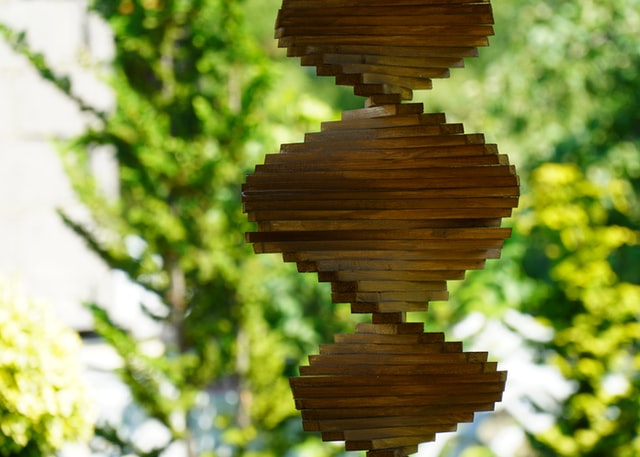 Overview
Nebula Genomics is a DNA sequencing company that specializes in whole genome sequencing.
They also offer a subscription service which grants users access to ancestry and limited health information.
DNA sequencing costs between $149 and $999 and their subscription service costs $20 per month.
Read on to find out more…
About Nebula Genomics: Who are they?
Nebula Genomics is a California based whole genome sequencing company who aim to provide their customers with a safe environment to share their genomic data in order to help further scientific research. Professor Church and his students Kamal Obbad and Dennis Grishin founded Nebula Genomics in 2016.
Nebula Genomics Products and Features Review
What sets Nebula Genomics apart from their competitors is that they offer whole genome sequencing. Whole genome sequencing means they generate data for all of your DNA, rather than just the most useful parts.
They also offer this service from 0.4X to 100X depth at a substantial cost. By sequencing your genome at 100X depth you will generate a lot more data, which increases the accuracy of your results, however this data isn't necessarily very useful.
After sequencing your data, Nebula Genomics also allows you to subscribe to their research library which contains information linking your genetics to particular health traits. The company has also recently added ancestry reporting using both Y chromosome and mitochondrial DNA which allows them to accurately map both your maternal and paternal heritage.
Nebula Genomics Reports Review
Nebula Genomics allow you to view your genetic traits in two separate formats.
The first is using their Nebula Explore research library, where you can access information about variants you carry based on individual studies. These snippets contain a summary of the gene, your polygenic risk score, the findings of the study and an interesting fact about the gene. Unfortunately these snippets do not provide any information about how to counteract any negative genes you may carry and beyond this the polygenic risk scores aren't necessarily the easiest to interpret if you aren't familiar with them. There is also a table at the end of each snippet which shows which allele you carry compared to the allele from the study however again this can be quite difficult to interpret. Check out an example below: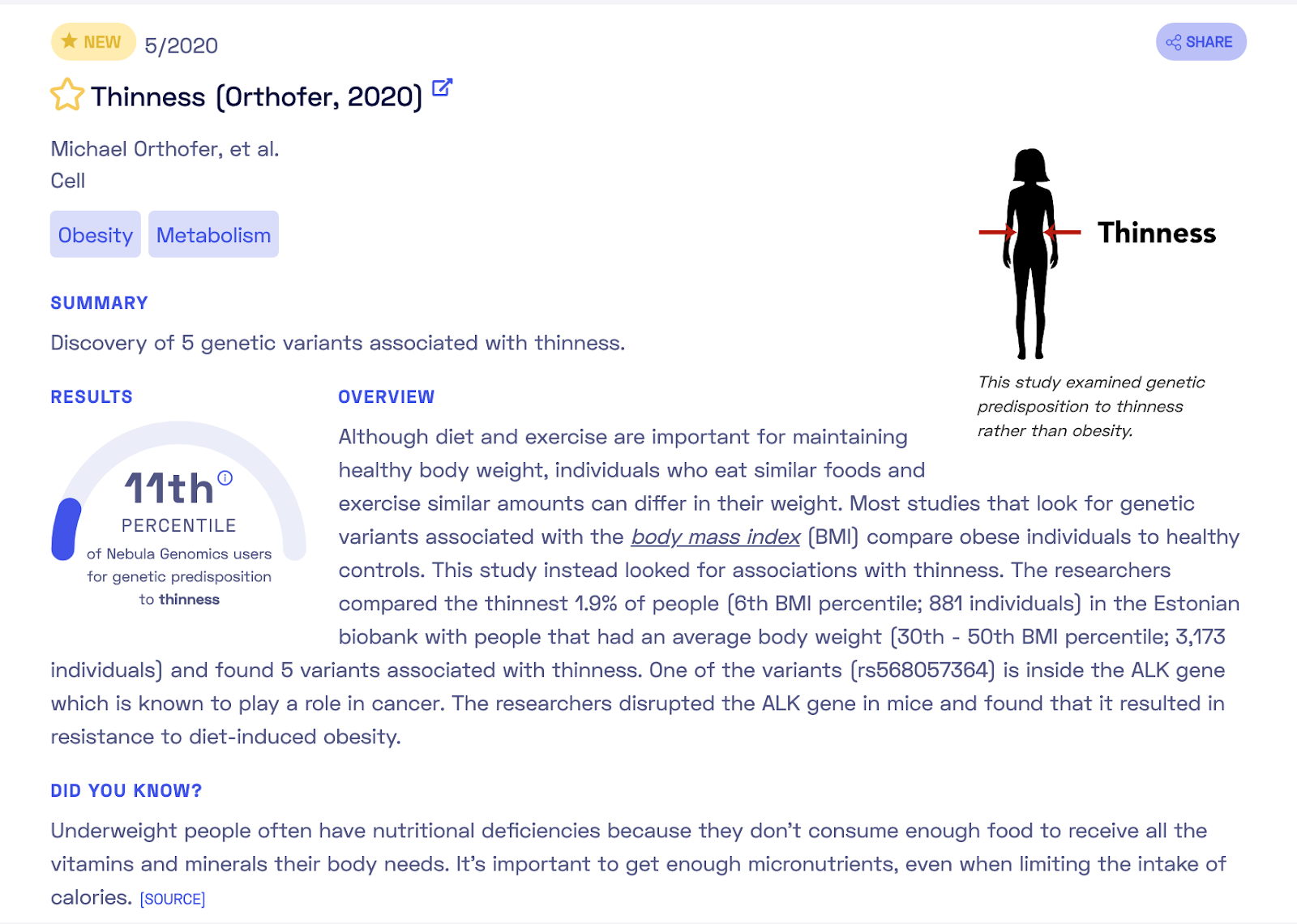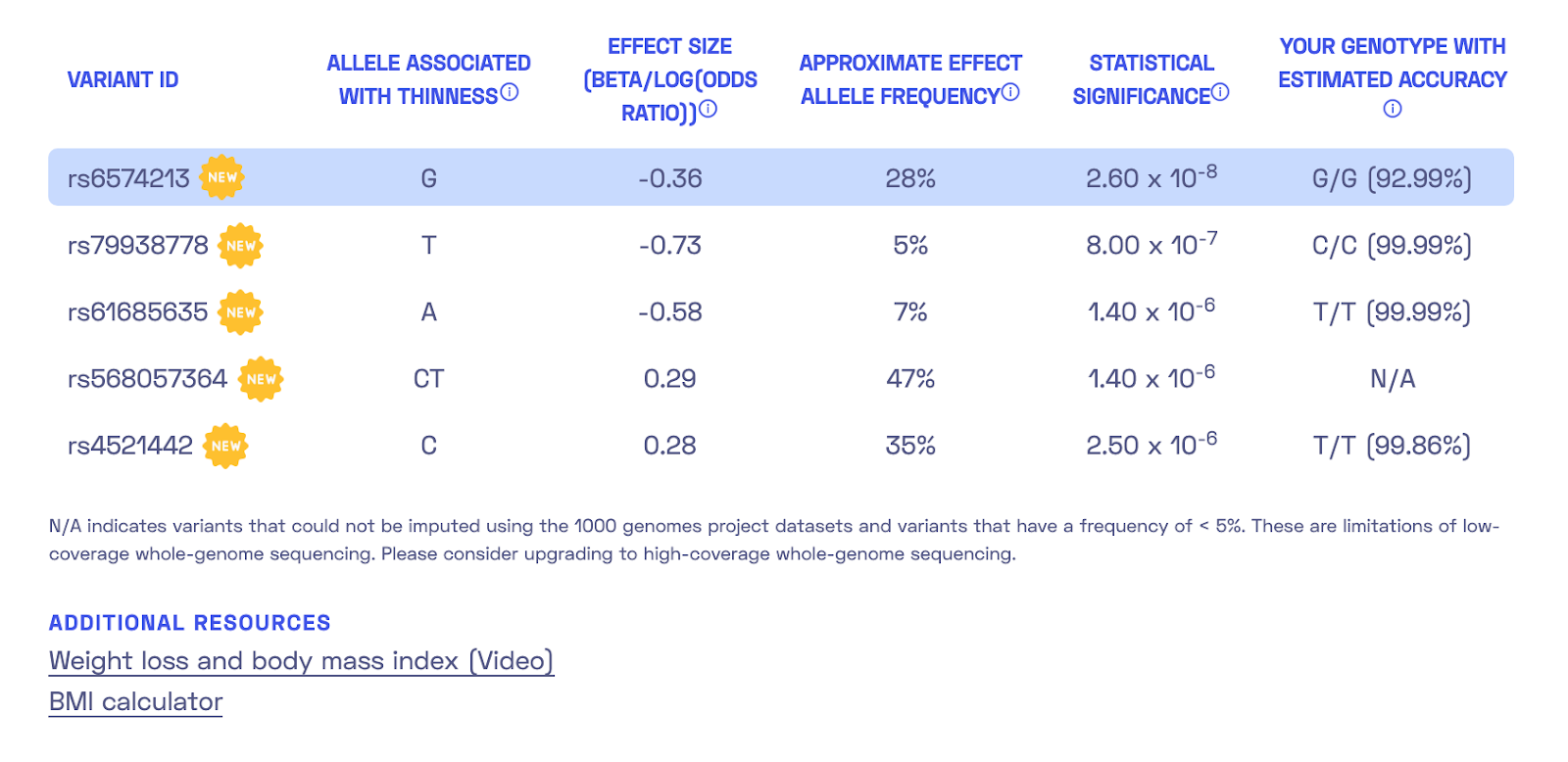 Nebula Genomics also provides mini reports on a small range of well studied topics. The information in these reports is easier to interpret than with the snippets. There are four groups of traits for these reports which are appearance & hormones, behaviour & perception, body & athleticism, and nutrition & diet. Take a look at an example below: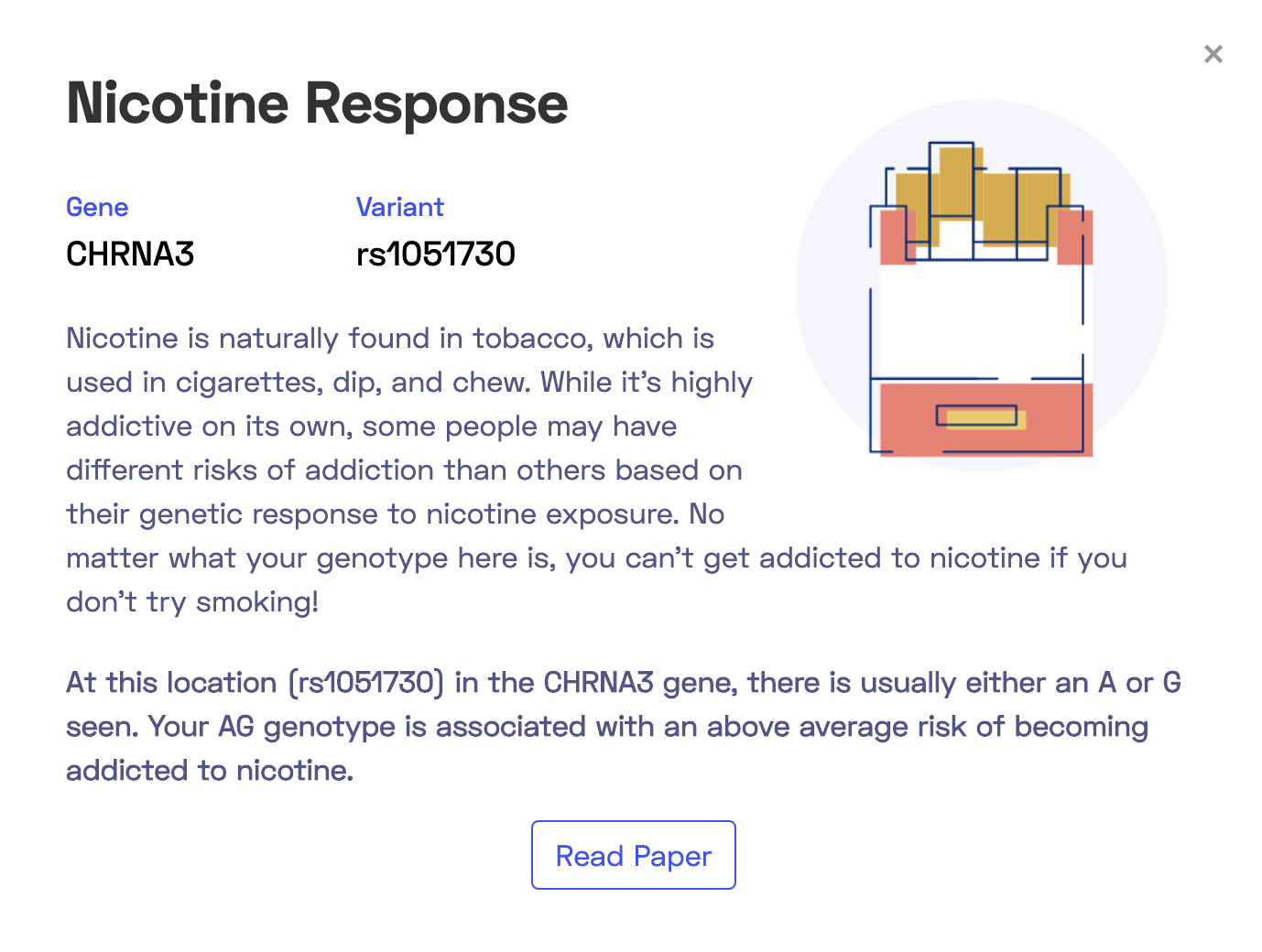 Whilst both of these resources offer interesting information about how your genetics may impact your health, unfortunately they do not provide any recommendations on how to counteract any potential negative health traits you may be predisposed to. This is a glaring omission, as for many knowing you are at an increased risk can be quite concerning. If you're particularly interested in using your genetic information to optimize your health, consider a service which specializes in this aspect of DNA testing such as SelfDecode.
Nebula Genomics Ancestry Review
Nebula Genomics recently also began offering ancestry reports. These ancestry reports use information from your Y chromosome and mitochondria to provide you with an insight into both your paternal and maternal heritage.
The report page uses a map to show you what percentage of your DNA comes from each individual place as shown in the below example: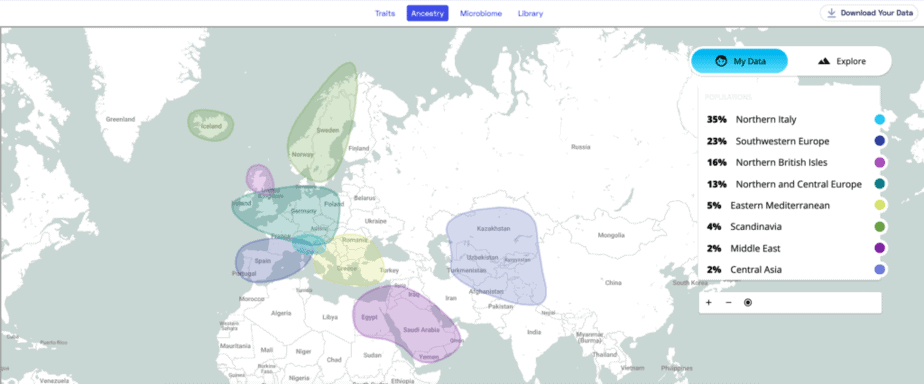 Nebula Genomics Oral Microbiome Report Review
Not only do Nebula Genomics offer to provide you with insights based on your own DNA, they also tell you about the DNA of the bacteria which live in your mouth using your saliva sample. The bacteria that live in your mouth can impact your health and have been linked to things like diabetes and Alzheimer's disease.
The oral microbiome report offered by Nebula includes a percentile of similarity compared to other users, along with information on the bacteria present in your mouth including scientific research papers which link these bacteria to particular health conditions. This report however is in no way intended to be used as a diagnostic tool. See an example of this report below: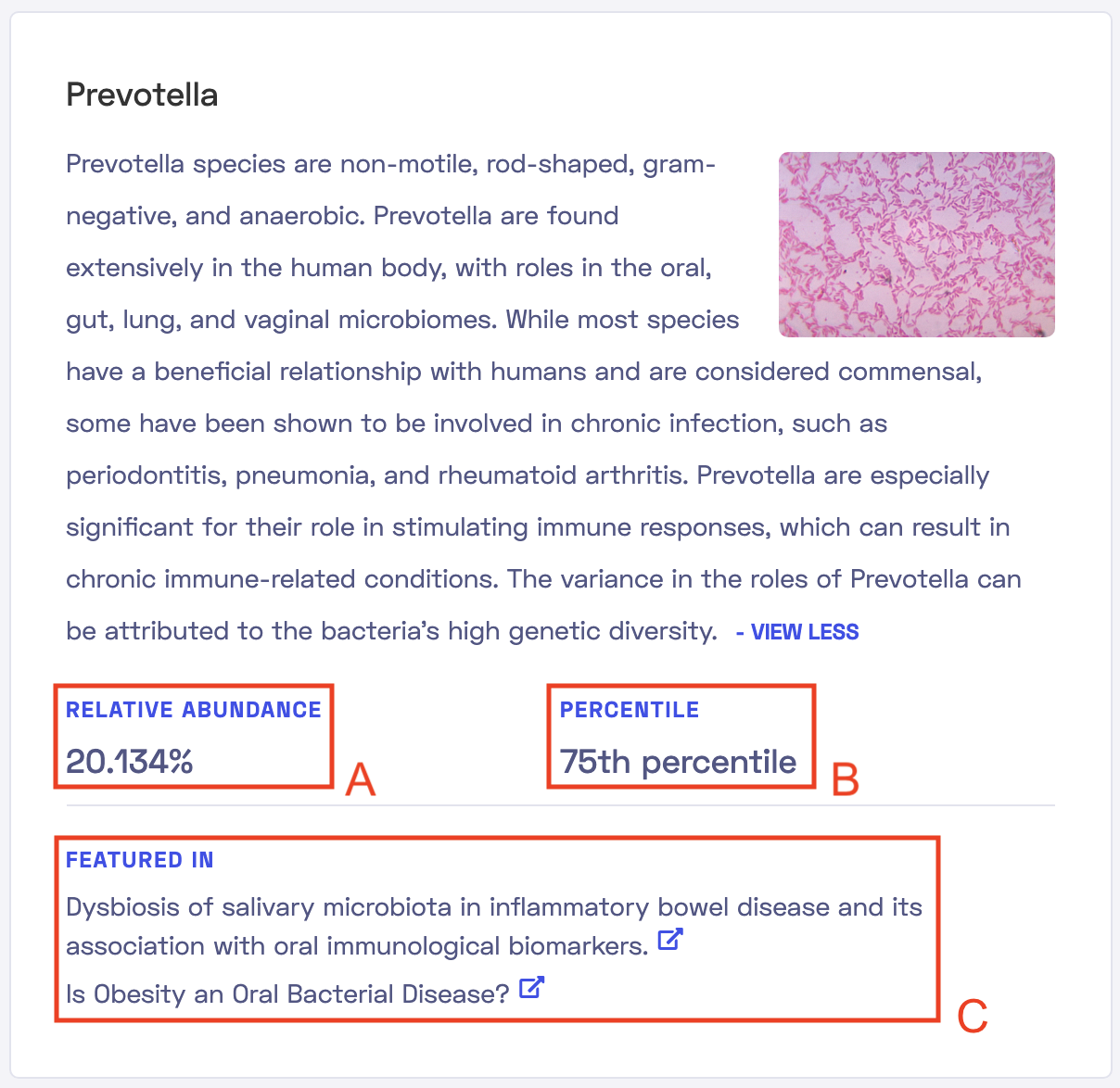 Cost of Nebula Genomics
Nebula Genomics offers a range of different whole genome sequencing packages to suit your needs. See a few details of each of their different packages below:
| | | | |
| --- | --- | --- | --- |
| | Basic ($99) | Deep ($299) | Ultradeep ($999) |
| Amount of DNA decoded | The most important parts of your DNA | All of your DNA | All of you DNA |
| Sequencing depth (amount of data) | 0.4X (2gb) | 30X (100gb) | 100X (300gb) |
| Ancestry reports | Autosomal ancestry reports | Y chromosome and mitochondrial ancestry | Y chromosome and mitochondrial ancestry |
| Accuracy of DNA reports | Medium | High | Ultra high |
Shipping is included within these rates within the US, however outside of the US, shipping to Hong Kong is at the buyers expense. After having your genome sequenced you will have access to a two-week free trial of the Nebula Explorer tool, however, to keep using this service you will have to pay $20 monthly or $700 for lifetime access.
Is Whole Genome Sequencing Worth It?
With whole genome sequencing costing up to $999 compared to the average ~$99 most companies charge to sequence a portion of your DNA, is it actually worth it?
Well the answer depends on your perspective, but in terms of value for money in 2021 the answer is pretty much no.
Whilst whole genome sequencing provides you with a whole load of data comparatively to methods used by other DNA testing companies which only sequence a fragment of your DNA, the amount of information gained by this is not in any way comparable.
Most companies like 23andMe and SelfDecode will use statistical methods to accurately predict more of your genome than they actually have data for too, which means you get way more bang for your buck.
As few companies currently offer whole genome sequencing, you won't be able to benefit from uploading this data to as many sites as you can with typical DNA sequencing data. Due to how relatively new this technology is too, there isn't as much reference data, which means that for quite a lot of our genomes, there simply isn't the depth of information available in 2021 to make it useful.
This may well change in the future, and you may wish to have this data available for when it does, but in all likelihood when the time comes that we can infer a lot more information from whole genome sequencing data, the cost to have your whole genome sequenced may also be considerably cheaper.
Review of Nebula Genomics Privacy & Data Security
When it comes to privacy, few companies rival Nebula Genomics. Recently, the company set up an end to end anonymous DNA sequencing service where customers can purchase their DNA kit anonymously and pay using either cryptocurrency or a pre-paid credit or debit card. This allows total privacy. Whilst the entire process can be done anonymously, Nebula Genomics do share their customers data for research purposes.
The company also stores their user data using blockchain technology similar to that used for cryptocurrency, which they claim makes the data more secure in the event of a cyber attack.

Nebula Genomics Alternatives
Whilst Nebula Genomics does have a unique offering both in terms of whole genome sequencing and their anonymous DNA sequencing, there are alternatives which may provide more insightful information about both your genetic ancestry and health.
When it comes to ancestry, the way to gain the most accurate information about heritage is to compare your data to as many people from around the world as possible to see what your data is most similar to. What you need to do this of course is a large bank of reference data, and no two companies have a larger reference database for ancestry than Ancestry.com and 23andMe, so if you'd like to make sure you're getting the most accurate ancestry data, these could be a better option.
With health, it can be pretty concerning to be told you're more at risk of a certain health condition and not provided with any guidance on how to address that. Imagine going to the doctors and being told you're sick, then you just leave without any extra information, this can be pretty worrying.
The best way to avoid this is to choose a company that specializes in DNA health testing like SelfDecode. SelfDecode not only tells you how your genetics may impact your health, but also provides scientifically proven recommendations to counteract any potentially negative health traits you may be predisposed to.
Comparisons
| | | | |
| --- | --- | --- | --- |
| | SelfDecode | Nebula Genomics | 23andMe |
| Personalized & holistic health recommendations | Yes | No | No |
| Personalized blog posts | Yes | No | No |
| Products | DNA testing, wellness reports, research-based health recommendations, lab test analyzer | WGS, health reporting, traits, ancestry | DNA testing, traits, wellness reports, more accurate ancestry |
| Raw data access | Yes | Yes | Yes |
| Cost (USD) | $97 – $387 | $0 (limited) – $999 | $99 – $499 |
Nebula Genomics Reviews
Trustpilot – 4.1 of 5 stars
In general, the reviews of Nebula Genomics are good but there are two common complaints. The main areas of concern are the time it takes for a test to arrive and that the information on the website is tricky to understand.
Takeaway
Nebula Genomics offers the deepest genetic testing currently available and uses this data to provide interesting insights into your genetic ancestry and health.
Despite this, the high price of whole genome sequencing coupled with the lack of reference data available means that this service doesn't necessarily provide value for money in 2021. As a result, you may be better off looking elsewhere for good value and useful ancestry and health information based on your genetics.