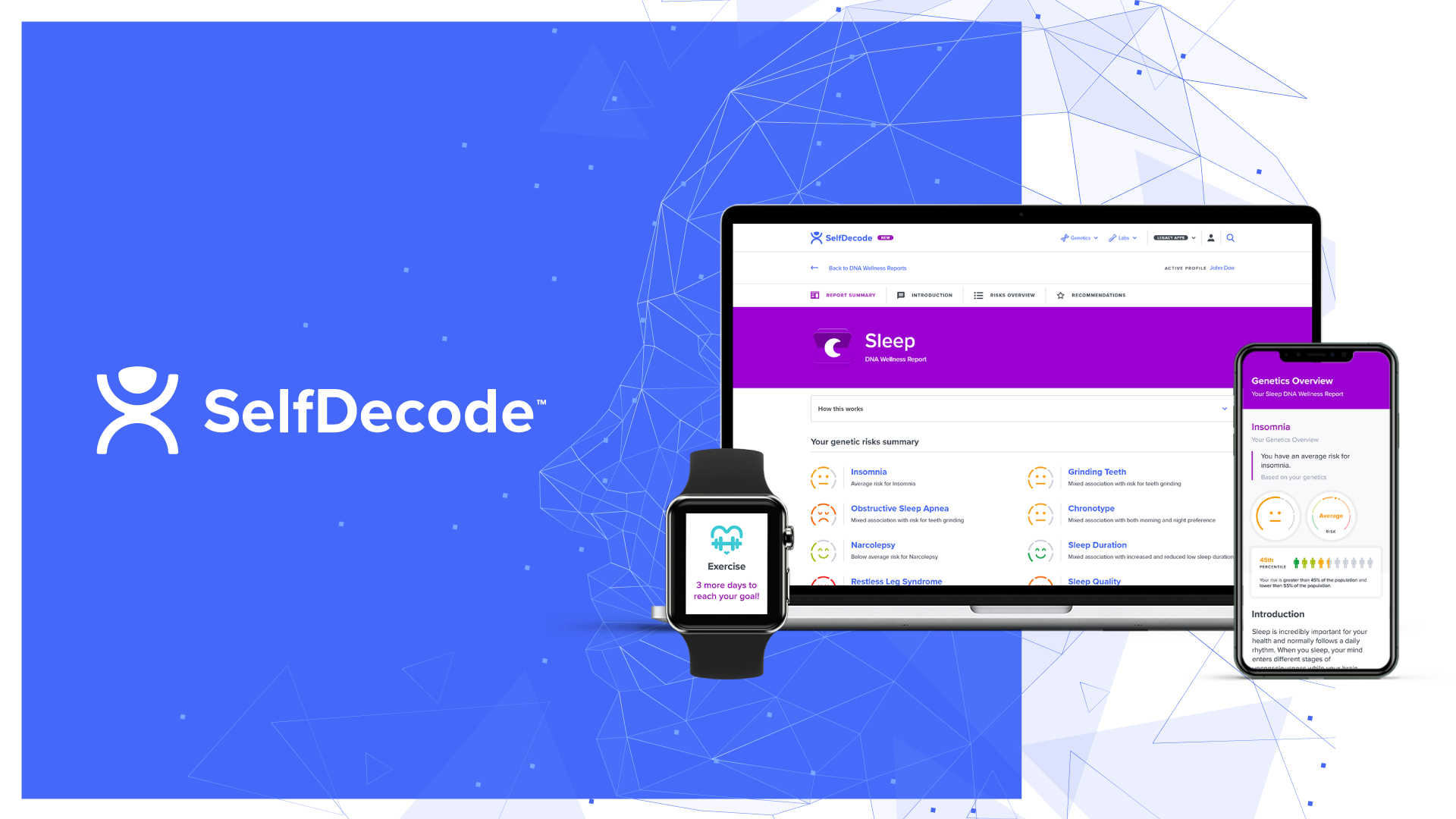 When I first launched SelfDecode in late 2017, it was only a simple gene explorer. If you already had a DNA file from another company, you were able to upload your file and see what genetic variants you carry… and that's about it.
Since then, we've grown like crazy and are creating tools that have literally never existed before.
Now you can take complete control of your health, with personalized health recommendations based on your own DNA and health tests.
The reason I've worked so hard to create this groundbreaking software is because I've seen the power of personalized health.
I've experienced it in my own life and seen it at work in the lives of thousands of customers.
I've seen years of hopelessness, frustration with conventional medicine and pain be released as someone finally finds the key to fixing their health issues…hidden right within their own body.
These stories are why SelfDecode is continually growing into the absolute best platform for optimizing your health. And today, I'd like to show you a sneak peek of our biggest update ever, and give you the opportunity to get early Beta Access.
Introducing, SelfDecode 2.0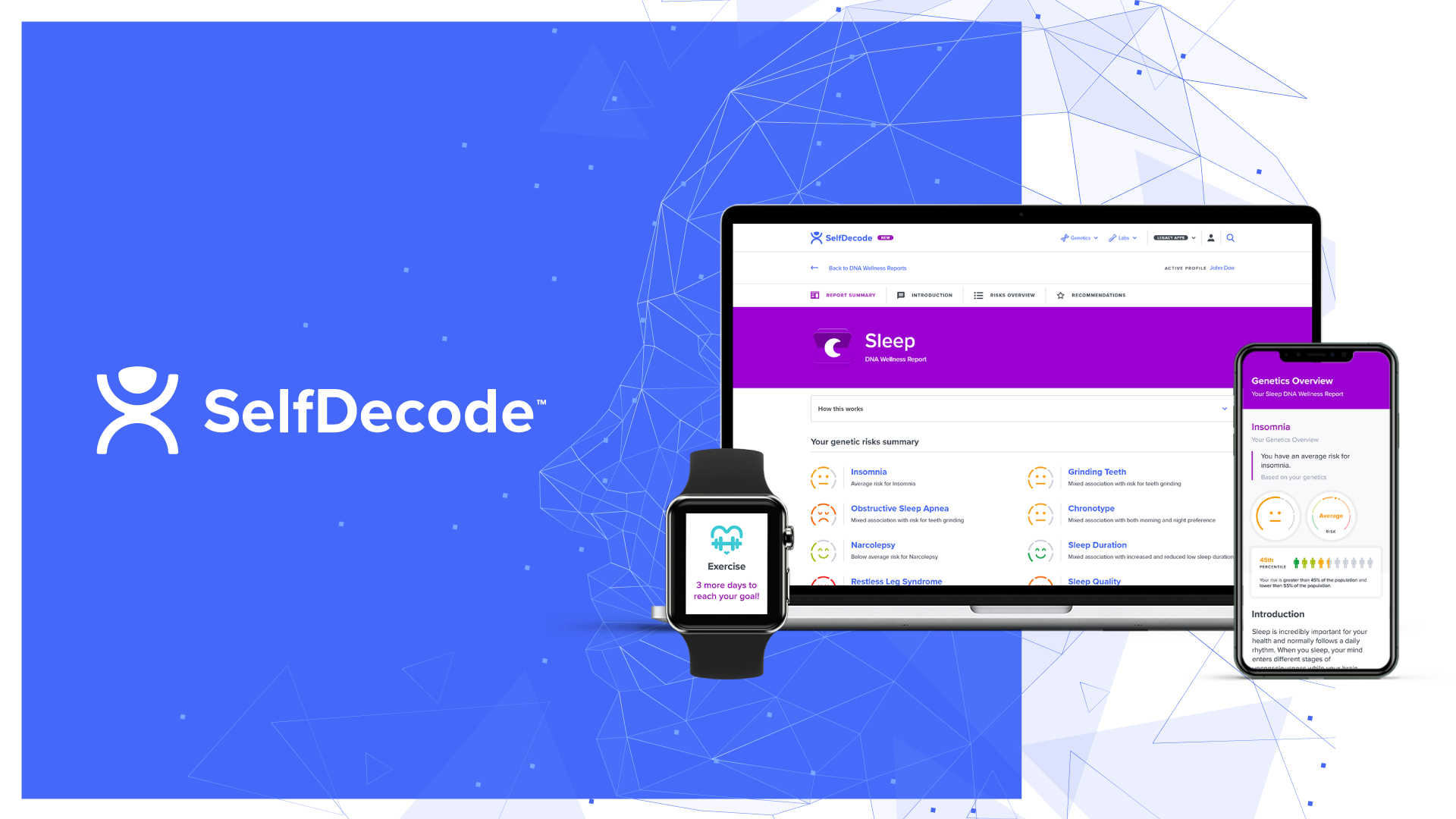 SelfDecode 2.0 is taking your health to the next level by analyzing up to 35 MILLION genetic variants, providing more accurate recommendations, and giving you better results. (And it looks great too 😉 )
More Accurate Recommendations. Better Results.
We're constantly improving SelfDecode to provide you with the most accurate recommendations to help you reach your health goals. SelfDecode 2.0 takes this to a whole new level.
With our new AI and machine learning technology, we're able to analyze millions of pieces of information found in your DNA to provide you with the most accurate results.
In fact, with SelfDecode 2.0, we will be the only company in the world analyzing that much data to provide personalized health recommendations (seriously, we've looked into it).
Plus we'll be the only health-focused company that provides you with a legitimate risk score based on your DNA, which we then use to give you scientific recommendations to solve any health issue you're experiencing. The only other company that also provides good risk scores are 23andMe, but their topics are very limited and they don't give you personalized recommendations.
I'm not just saying this to brag, but because I am so incredibly proud of the amazing work from my team of scientists and engineers.
So, how big of a difference is this really from SelfDecode 1.0? Well, take our current Mood DNA Report, for example. We analyze 128 SNPs to provide you with recommendations (that's already more than 4x what most DNA reports analyze – most are less than 30 SNPs. Some are just a few).
However, with our NEW SelfDecode 2.0 DNA Reports, we'll be analyzing over one million SNPs to deliver the most precise recommendations, personalized for you.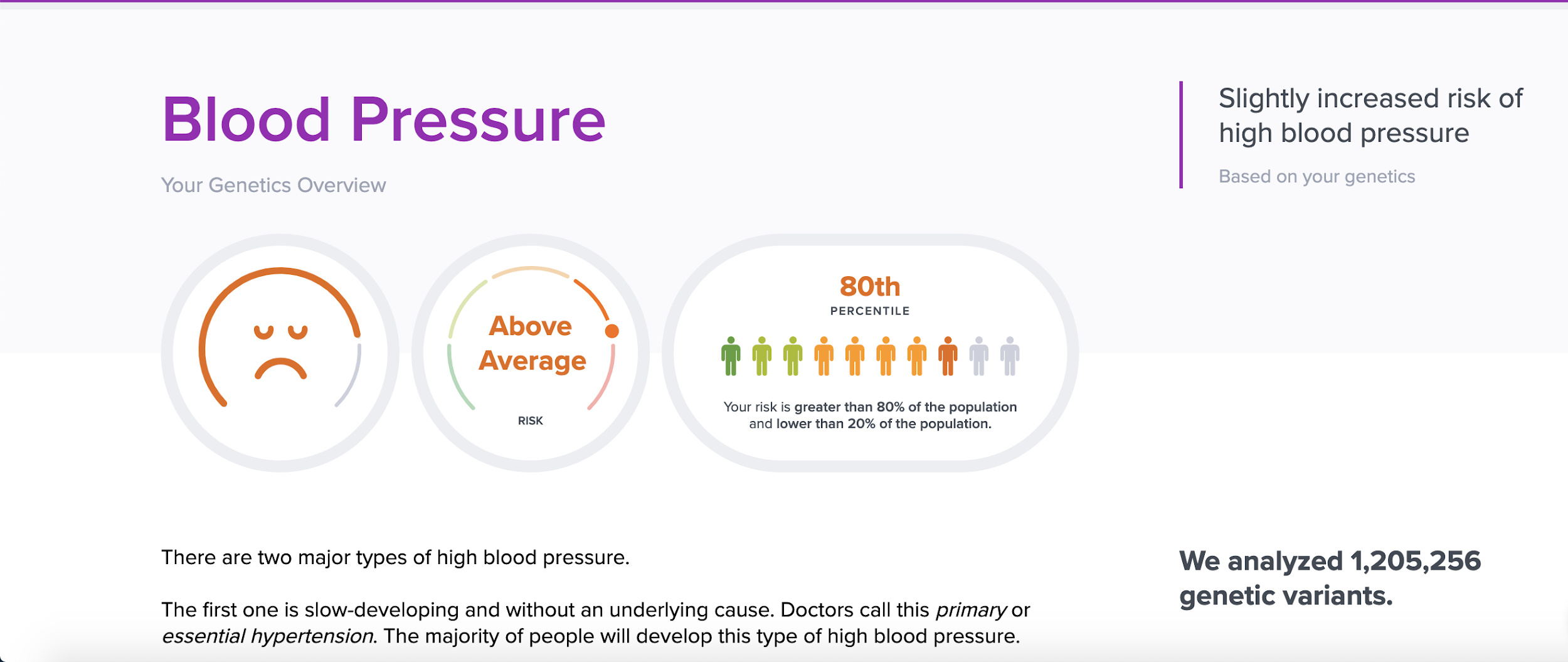 The best part is, you don't need to spend thousands of dollars on whole genome sequencing!
With SelfDecode 2.0 technology, we're using a scientifically backed algorithm to predict and analyze ~35 million SNPs from a typical DNA file so that you don't have to spend hundreds of dollars on whole genome tests, and you'll still get the most effective recommendations and see the best results.
Easier To Read DNA Health Reports
We've completely revamped our DNA Health Reports. Not only do they look great, but it's also easier for you to navigate, identify your genetic risks and discover your prioritized diet, lifestyle, and supplement recommendations.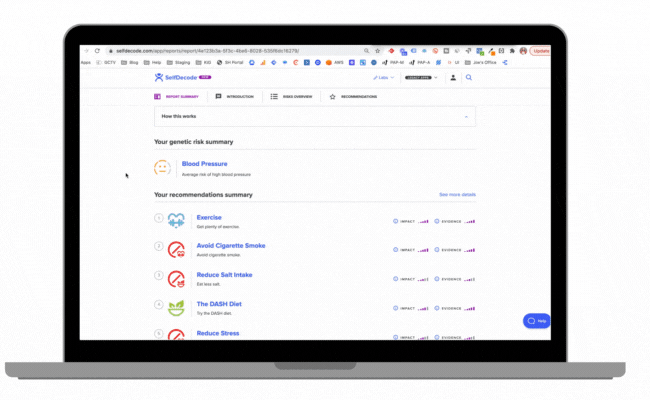 How To Get Early Access To SelfDecode 2.0
And this is just the beginning of what's to come for SelfDecode 2.0.
We'll be giving early access to our closed beta to the first 100 people who sign up for a SelfDecode membership, which will be launching in April.
You can be one of the first people ever to use this revolutionary, life-changing technology.
Our current members are already changing their lives with the current version of SelfDecode.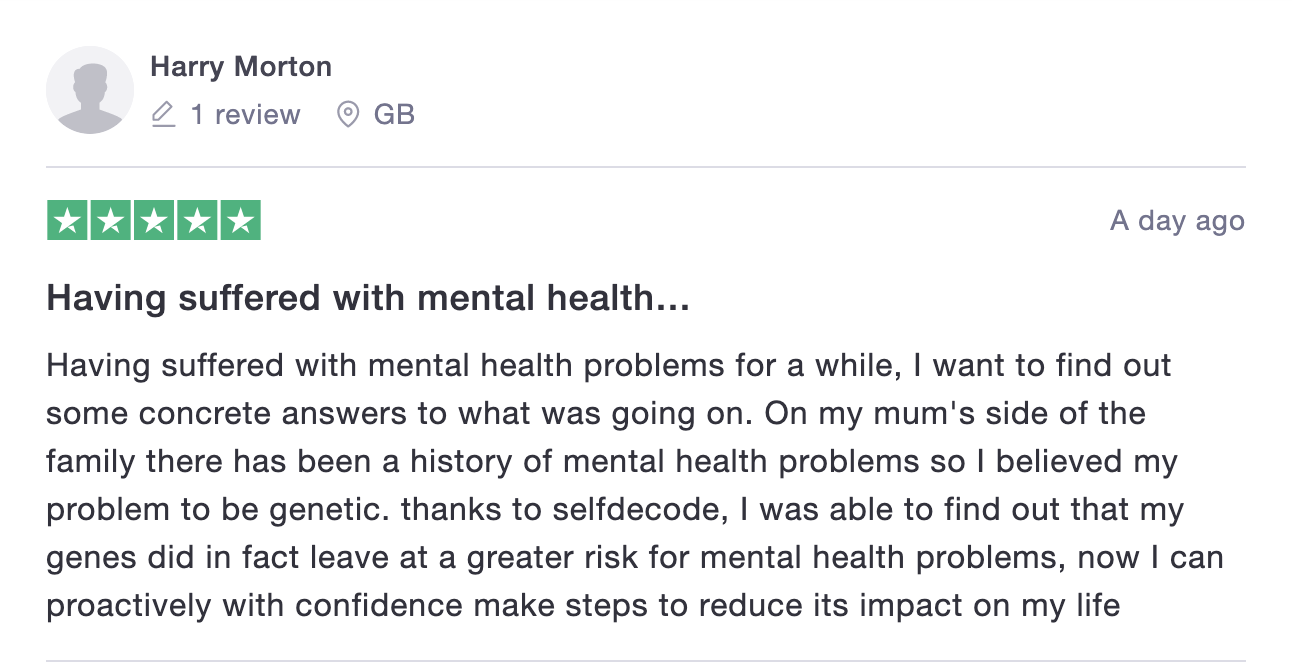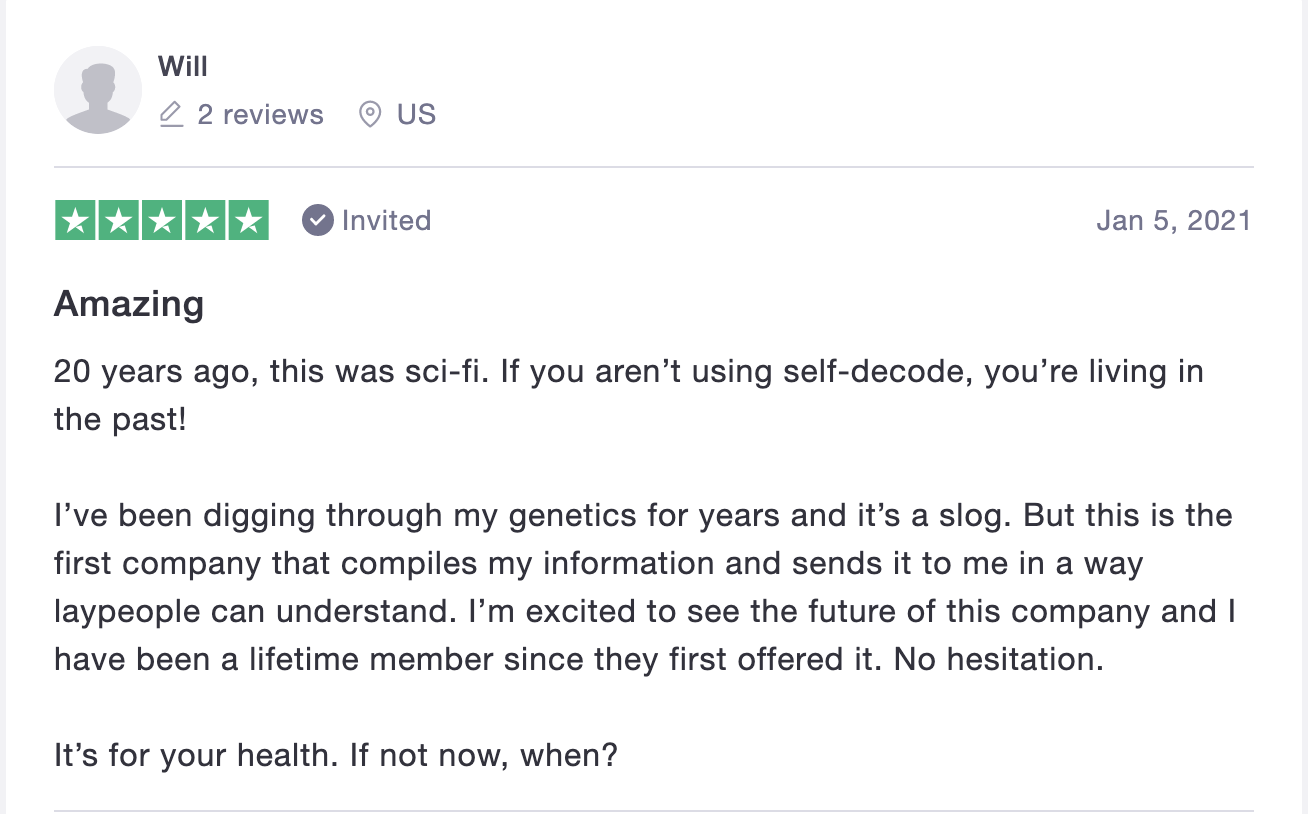 Now just imagine how much you can optimize your health, reach your goals, and improve your life with the new and improved SelfDecode 2.0
When you join today, you'll also receive:
Locked in pricing – With the upgraded and improved technology, prices will increase as we add more features, but your subscription rate will remain the same
Access to DNA Wellness Reports – Get 5 per year with an annual membership or unlimited reports with a lifetime membership
Unlimited access to the personalized genetics blog
Access to the Lab Analyzer – Receive recommendations on how to get your levels in the optimal range and track them over time
Monthly live webinars where our health experts answer your questions