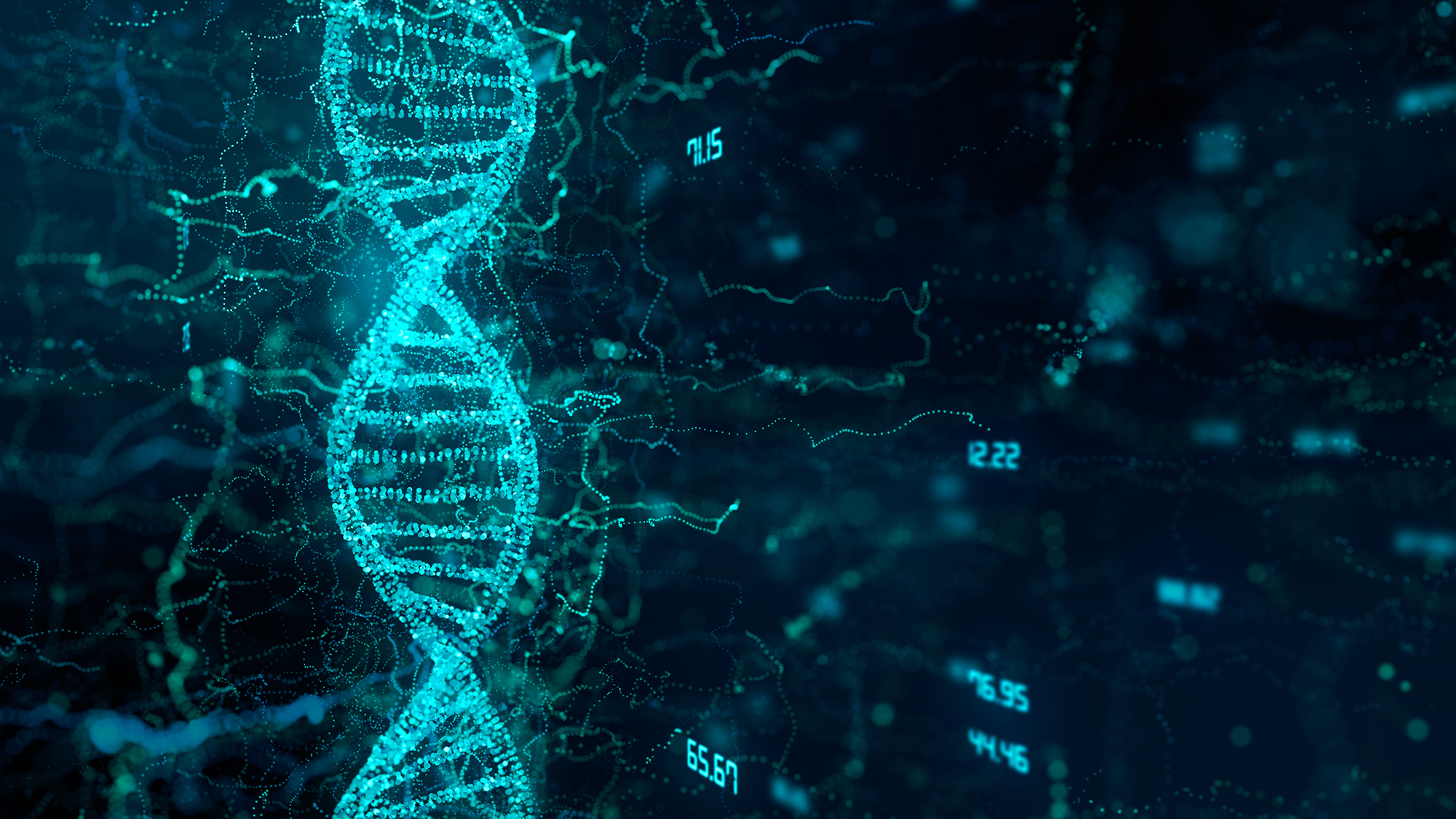 Overview
Products: DNA testing, personalized wellness reports, lab analyzer tool
Cost: Free (limited), $97 for an annual subscription, $297 for lifetime access, $149 for DNA Kit + health insights, $399 for DNA kit + premium insights
Reports: 250+ health & trait reports, personal genetic health predispositions, personalized diet, lifestyle, and supplement recommendations.
Raw data access: yes, free to download
Privacy: data encryption, limited employee access, data never sold to third-parties
Pros
Personalized health recommendations based on your genetic predispositions
Easy-to-understand presentation of genetic information through Wellness Reports
Privacy-focused
Ability to analyze lab tests results
Cons
No ancestry reporting (coming soon)
About SelfDecode
SelfDecode was founded in 2015 by Joe Cohen. After improving his own health through genetics, Cohen set out to help others do the same. He started the website selfhacked.com, which publishes articles about health and biohacking, and then expanded to SelfDecode to help others improve their quality of life in the same way he did through analyzing their DNA.
Today, the SelfDecode team includes over 60 highly skilled scientists, MDs, PhDs, NDs, and software engineers working to provide the most accurate health information to users.
Review of SelfDecode Products & Features
SelfDecode offers their users the ability to explore their genetic health predispositions in an accessible way. They focus on providing personalized lifestyle, diet, and supplement recommendations to help improve your quality of life.
A subscription to SelfDecode provides you with access to Wellness Reports, Lab Test Analyzer, and My Regimen, among other features.
The Wellness Reports aim to explain how your genes may affect you when it comes to a particular health topic, such as sleep, gut health, or mood. These reports contain easy-to-understand information about your personal genetic predispositions and prioritized recommendations that help you counteract that predisposition.
If you do not have a DNA file already or you would like an updated analysis, you can purchase a DNA testing kit from SelfDecode that uses a genotyping chip tailored to the database. Most importantly, SelfDecode uses AI and machine learning to analyze up to 83 million genetic variants from your typical DNA file.
Regardless if you upload your DNA file or choose to get tested with SelfDecode, you will receive an analysis of millions more variants than with other DNA companies.
If you already have a DNA file, you can upload it to SelfDecode for free to get started.
As part of the SelfDecode subscription, you will also gain access to the Lab Test Analyzer. You will be able to upload your lab results to learn whether you fall within the optimal range for a particular marker. If you are outside of the optimal range, the service suggests lifestyle changes that can help you get there. Alternatively, you can also purchase lab tests from SelfDecode.
Review of SelfDecode Reports
Each SelfDecode Wellness Report covers a different topic in detail. New reports are being released regularly, but currently, there are over 250 DNA health & trait reports, including topics such as:
Skin health
Gut health
Pain
Fatigue
Sleep
Heart health
Weight
Stress
Inflammation
Mental health
and others
Each report begins with a summary of its analyzed traits and how your genetics predispose you to them. Before the detailed analysis of each recommendation, you can see your genetic risk score for the particular trait and a list of your personalized recommendations. The sample report below shows an increased genetic predisposition to insomnia.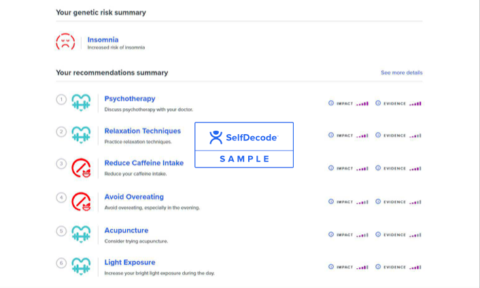 The recommendations are prioritized based on what is more likely to work for you based on your unique DNA. SelfDecode also presents your impact and evidence scores for each recommendation. This offers an easy way for users to understand how the suggestions will likely impact their health.
SelfDecode thoroughly explains the health topic analyzed in the report and discusses how genetics can play a role. After you learn more about the condition, you can find a detailed section containing your diet, lifestyle, and supplement recommendations.
You can also easily add your suggestions to your regimen by simply clicking on the button on your wellness reports. By doing this, you can edit and keep track of your recommendations by setting the frequency and duration of each one to fit your wellness routine.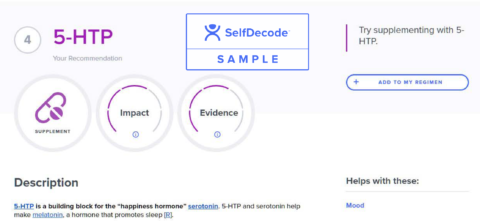 Every report explains how the science of genetics works and how it can help you. It reminds the reader that environment and lifestyle factors can change the way your genes affect your life.
After giving an explanation of a health recommendation, the report will inform which genes can affect the health topic and explain how that particular recommendation can help with that topic. Links to references for each conclusion are always available for easy access.
As stated before, the recommendations are prioritized by their effectiveness, although they all have the potential to make a difference. SelfDecode recommends that you start with the first few recommendations as they are likely to have the most significant impact.
SelfDecode's reports utilize a lot of well-referenced scientific information but present it in a way that is accessible for anyone, even if they have no prior knowledge of genetics. This makes SelfDecode a great way to get a lot out of your DNA analysis because the recommendations can be implemented with relative ease by just about anyone.
In addition to the DNA Wellness reports, members also have access to the lab analysis tool where they can upload their results to receive insights into over 1,000 markers. Below you can see an example of a suboptimal ferritin result.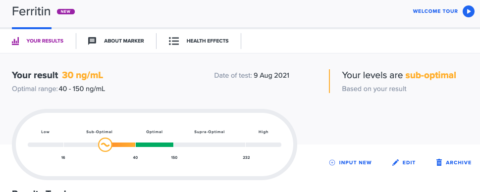 As with the DNA reports, you will also receive personalized health recommendations to help you achieve optimal health based on your labs. You can track your result to see how they improve.
Cost of SelfDecode
For users who already have their DNA file, SelfDecode offers two subscription options: an annual subscription ($97/year) or lifetime access ($297).
If you need a DNA kit, SelfDecode offers two options:
There is an additional shipping cost for DNA kits which varies based on your location, but return shipping costs are covered.
Both the lifetime and annual subscription will give you unlimited access to all current and future Wellness Reports, Lab Test Analyzer, and other tools.
If you already have a DNA file, you can upload it to SelfDecode for free.
Health Recommendations from SelfDecode
One of SelfDecode's most useful features is the recommendations they make based on your personalized genetic analysis. These recommendations are centered around diet and lifestyle changes and the introduction of natural supplements.
Each Wellness Report is concluded with a list of recommendations based on the genes that the report focused on. Most importantly, these suggestions are given based on an analysis of up to 83 million genetic variants.
The recommendations are prioritized at the beginning of each Wellness Report so that you can know where to start and which recommendations are most worth your time and money. SelfDecode suggests that you start with the top three recommendations from each relevant report.
Each recommendation is made because it beneficially interacts with the genes that are relevant to the health issue at hand, so everyone's recommendations are personalized. All of the recommendations are based on scientific research that has demonstrated each substance or behavior's ability to interact positively with the relevant gene.
With SelfDecode, you will also receive health recommendations based on your lab results for a complete picture of your health.
Review of SelfDecode Privacy & Data Security
SelfDecode takes the security and privacy of your data seriously and takes multiple precautions to ensure that your data is well-protected and it is for your eyes only.
SelfDecode promises that they will never sell your data or enter into partnerships with companies that could benefit from access to your data, such as pharmaceutical companies.
The lab that processes your data does not store it alongside any of your personal information. Once the lab sends the data to SelfDecode, they destroy it, so the only copy of the information is the one uploaded to your account.
The data is always transferred in an encrypted form. It is only available in an accessible form within your account and if you choose to download your DNA file from SelfDecode's site yourself.
SelfDecode also promises that only trusted and well-vetted employees will ever have access to your account information.
In addition, you can permanently delete your data any time you want to.
Comparisons
SelfDecode

Promethease

GenoPalate

Personalized & holistic health recommendations

Yes

No

No

Products

DNA testing, wellness reports, research-based health recommendations, lab test analyzer, traits, personalized supplements

DNA analysis for health

DNA testing, diet and nutrition reporting

Genes & genetic variants analyzed

Up to 83 million genetic variants
100,000 SNPs
100+ SNPs

Raw data access

Yes

N/A

No

Cost (USD)
Upload your DNA for free

$149 for the DNA kit + health insights

$399 for the DNA kit + premium insights

$12

$79 – $149
SelfDecode Reviews
Trustpilot – 4.7 of 5 stars
Reviewers on Trustpilot have a generally positive opinion about SelfDecode. Many reviews mention how they appreciate the actionable suggestions and easy-to-understand reports provided.
Product Hunt – 4.6 of 5 stars
Reviewers on Product Hunt really appreciate that SelfDecode allows them to do something meaningful with their genetic data.
SelfDecode Review Summary: 10/10
SelfDecode is an excellent choice for those who are looking for actionable information about their personal genetic health predispositions. Whether you have never had your DNA analyzed before or you feel lost about what to do with the information you have from another service, SelfDecode makes the impact your DNA has on your health easy to understand.
This is a service that is perfect for those who are health-focused. The reports are presented in an easy-to-understand manner, and the recommendations are prioritized based on your unique DNA to help you understand where to focus. SelfDecode is a very powerful tool for improving your health.
The personalized health recommendations are what separate SelfDecode from the rest and give it excellent value for your money. These recommendations make it simple to improve your quality of life using the new data you will receive from analyzing your DNA.
Most importantly, with SelfDecode you will receive an analysis of up to 83 million genetic variants related to your health. Plus, by analyzing your lab results alongside your DNA, SelfDecode is able to provide you a complete picture of your health.
Related Articles