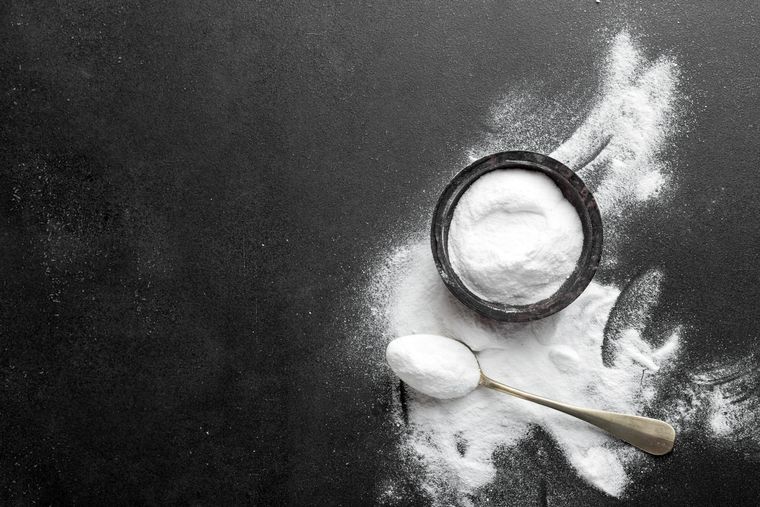 Sodium Benzoate has many beneficial health effects including decreasing inflammation & cholesterol. Learn the pros & cons of Sodium Benzoate.
Summary of Sodium Benzoate's Health Effects
Sodium benzoate:
Decreases Inflammation and Cholesterol
I recently bought this lemon juice from my corner grocery. Looking at the ingredients, I noticed sodium benzoate and sodium sulfite. I commonly see potassium sorbate in a lot of foods, too. I generally try to stay away from food additives because they can have an effect on gut flora, theoretically at least. Normally I try to get better quality foods from the health food store but I figured some sodium benzoate once in a while won't kill me.
Recently, I became interested in researching therapeutic options for autoimmune conditions because of its growing prevalence and our increased understanding that more and more diseases are of autoimmune origin. See a list of autoimmune diseases, which seems incomplete based on my research.
Anyway, I came across a few interesting studies that demonstrated how sodium benzoate can dampen inflammation and help autoimmune diseases [6].
Sodium benzoate (NaB) actually is a derivative (or metabolite) of cinnamon. While not as promising, studies also show that potassium sorbate (sorbic acid) and sodium sulfite can suppress Th1-type immune responses, which has an anti-inflammatory effect.
Interestingly, sodium benzoate decreases cholesterol, too, in the same manner, that statins do – by inhibiting an enzyme called HMG-CoA reductase. It's in this manner that it has an anti-inflammatory effect.
It counteracts autoimmune diseases by decreasing inflammation. It acts via inhibiting T cell proliferation, the Mevalonate pathway, iNOS, NF-kb, TNF-α, IL-1β, Th-1, adhesion molecules and by increasing Tregs [5].
It inhibits iNOS via NF-kb inhibition. Inhibiting iNOS reduces nitric oxide (NO), which has a host of downstream (or domino) effects.
For example, NO increases CD11b, a protein on cells that binds to ICAM-1 and complement C3bi, which are other proteins that cause inflammation. In various neuroinflammatory diseases, the increased CD11b expression corresponds to the severity of microglial activation [5].
NO also increases MHCII and other "co-stimulatory molecules", which are other proteins on cells that stimulate inflammation. In addition, it increases a protein called "GFAP." In various neuroinflammatory diseases, the increased GFAP expression corresponds to the severity of astroglial activation. So by NaB inhibiting NO in astroglia (a type of brain cell), it decreases these proteins [5].
NaB also markedly inhibits the expression of other receptor proteins on cells called "integrins" (VLA-4 and LFA-1: α4, β1, αL, and β2), which are located on T cells. These receptors make it easier for T cells to activate and attack our own tissue, so by inhibiting them, we decrease our risk of autoimmunity [5].
Last, NaB inhibits "adhesion molecules" such as E-selectin and P-selectin, ICAM-1 and VCAM-1, which allows the immune cells to attach and roll along the brain barrier and get into the brain. NaB inhibits these adhesion molecules [5].
Inhibits D-amino acid oxidase
Sodium benzoate is also a potent inhibitor of an enzyme called D-amino acid oxidase (DAAO).
Less of this enzyme is a good thing because DAAO breaks down d-serine, resulting in less d-serine and therefore less activation NMDA receptors (d-serine activates NMDA).
Less activation of NMDA receptors has been found to be a contributory factor in multiple chronic, cognitive-based disorders.
While researching this article, I was surprised to find 2 double-blind placebo-controlled clinical trials of sodium benzoate with positive results for schizophrenia and Alzheimer's. In schizophrenia, D-amino acid oxidase has been connected to the brain D-serine metabolism and to the regulation of the glutamatergic neurotransmission.
In a postmortem study, the activity of DAAO was found to be two-fold higher in schizophrenia [7]. By inhibiting this enzyme (DAAO) benzoate is working via a completely different mechanism than its anti-inflammatory and cholesterol-lowering role.
Decreases Autoimmunity And Inflammation
All of the mechanisms are pretty common with broad anti-inflammatory herbs. For example, bioavailable curcumin and tea reduce inflammation by the same mechanism's, for example.
By increasing "Tregs" the immune system start to tolerate its own tissue and reverse the autoimmune disease process.
Decreases Cholesterol And Decreases Inflammation
This diagram may look scary, but it isn't. If you follow the arrows from sodium benzoate, you'll see it inhibiting enzymes HMG-CoA. These enzymes work like dominoes where one enzyme leads to the activation of another. Eventually, they activate proteins called transcription factors that increase growth via increasing inflammation.
Improves Cognitive Enhancement
What really got me interested was when I found this study, which showed that lower DAAO also increases Long Term Potentiation (LTP) and therefore memory [1].
This cognitive enhancing effect works by increasing synaptic plasticity and NMDA receptor activity (by regulating d-serine concentrations) [1].
NaB also dose-dependently induced the expression of BDNF and NT-3 in primary human neurons and astrocytes [8] and increased volumes of the thalamus, amygdala, and brainstem in a patient with major depression [9].
Dosing
I couldn't access the full schizophrenia study, but the Alzheimer study used 250 – 750mg, a dosage that isn't likely to be achieved with food. I haven't been able to find the average consumption of benzoate, but the WHO says the acceptable daily intake for a 70kg person to be 350mg. It's likely that the average person gets much less than this. If I had to take a wild guess, sodium benzoate is probably less than .1% of my lemon juice (they don't disclose how much). With a serving being 5ml and therefore about 5g, .1% would equal 5mg per serving. Taking 5 servings a day, I'd get 25mg of the stuff. Not quite medicinal, but a dosage I'm very comfortable with, given there's probably much I don't know about it.
Cautionary Notes
Takeaway
I probably won't be going out of my way to ingest it, but I will gladly consume it since it also has additional conveniences like the food being cheaper and lasting longer, in addition to the potential health benefits.
Whereas before I was very hesitant about ingesting foods and beverages with it, I'm much more willing now that there's a significant potential gain (besides price and convenience). I will consume foods with it in moderation, though. I will also continue consuming generous amounts of cinnamon (6g a day).