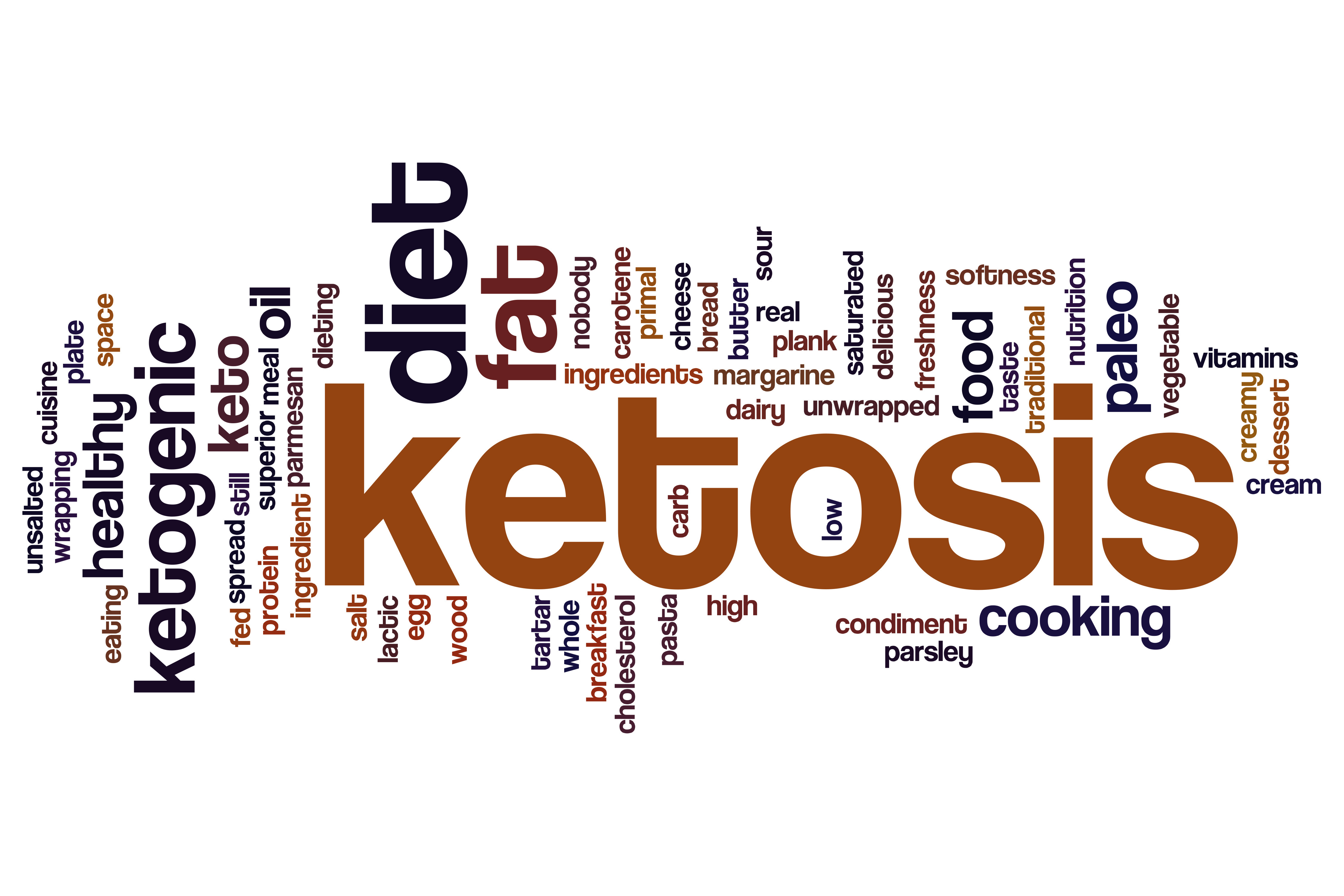 Executive Summary
Here's a sample protocol. I've given more options below for you to tinker with, but if you just want clear and simple instructions, here you go. I think this is simple enough and doable. You don't have to follow everything here, but it's just a sample protocol.
Morning:
Afternoon
Before supper
You can eat whatever you want for supper. Follow a diet that you can keep to and that suits your individual health needs. I recommend 20-50g of carbs depending on your individual needs.
Introduction
I've gotten into ketosis before but it didn't work out very well. This protocol is my attempt to make it work more quickly.
Getting into "Ketosis" is considered a state where your brain uses ketones for fuel. The most common fuel for your brain is glucose.
Recently, I thought about what went wrong and thought about how I could change this. I've been experimenting with a modified ketosis version for about a month on and off.
This protocol will be updated as I do more experiments and tweak it.
This modified version solves most of the problems I had with ketosis when I previously tried it.
I had a lot of issues with low carb diets in general, but this protocol is NOT a very low carb diet.
I don't do this protocol anymore because I need more carbs. I still recommend that you try this or a variation of it if you want to get into ketosis.
These days I do a lectin avoidance diet, with carbs. But I may revisit ketosis later.
Supercharge Your Brain With These Four Cognitive Fuels
My protocol doesn't rely on ketones for fuel only. I like to get brain fuel from 4 different sources. This is one way in which this protocol is unique.
I use 1) butyrate from Hi-maize/resistant starch and Sodium Butyrate, 2) lactate from exercise and kombucha, 3) glucose from carbs and now 4) ketones by getting into ketosis.
I find if I get too much of one of these four fuels then it starts to decrease brain function.
Lactate, butyrate, and ketones from ketosis all have different cognitive effects for me, but they are more similar than different. They all provide a relaxing buzz, but there's an intangible strain at the same time.
The most healthful product of ketosis, beta-hydroxybutyrate, has similar benefits and structure as butyrate produced from resistant starch.
Having a small dose of these is great, but having too much is annoying for me. My memory also starts to get worse if I take too much resistant starch for too long.
Who Should Try This Protocol?
Ketosis has many health benefits. There are a few main conditions that I'd recommend this ketosis protocol for.
Getting into ketosis a few days a week can help even healthy people enhance cognitive performance.
I would recommend experimenting with this protocol to anyone suffering from:
I also recommend this to people with office jobs who can't exercise or move around for most of the day.
How is Ketosis Beneficial?
Ketones are capable of improving mitochondrial function possibly by decreasing free radicals/ROS [3].
In fact, ketosis can create new mitochondria and increase ATP in your hippocampus/memory cells (in certain mouse models) [8] and probably many other cells. This should improve your memory.
Ketones can also decrease glutamate excitotoxicity and neuronal excitability [3], which is a driver of OCD, anxiety and a host of other cognitive disorders.
Ketosis increases our natural production of antioxidants by activating Nrf2 [9]. It can also decrease oxidative stress by inhibiting HDACs (specifically HDAC1, which increases Foxo3a and Mt2) [10]. As you can see, Catalase and MnSOD, two natural antioxidants that our body produces, are increased by hydroxybutyrate (BOHB):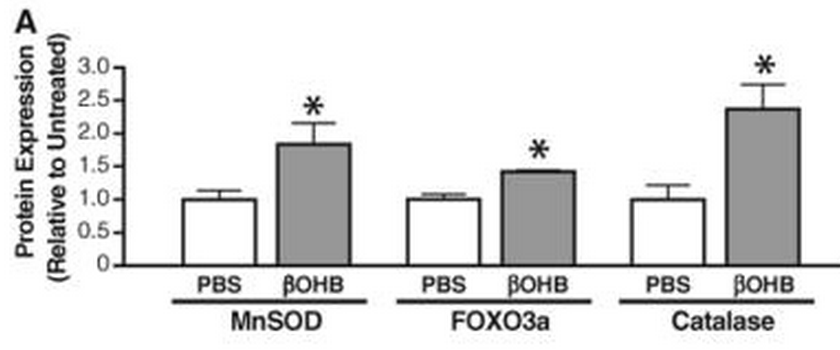 As a result of carbohydrate restriction, getting into ketosis can activate AMPK, which has many health benefits. It can also inhibit mTOR [3]. Inhibiting mTOR is a pathway that increases longevity.
Ketones are acidic and likely increase wakefulness via orexin.
Ketosis is responsible for much of the benefits of fasting and activates many of the same genes [10].
Getting into ketosis can positively affect us epigenetically by inhibiting HDACs and therefore increase our gene expression [11, 10]. See its inhibitory potential of various HDACs: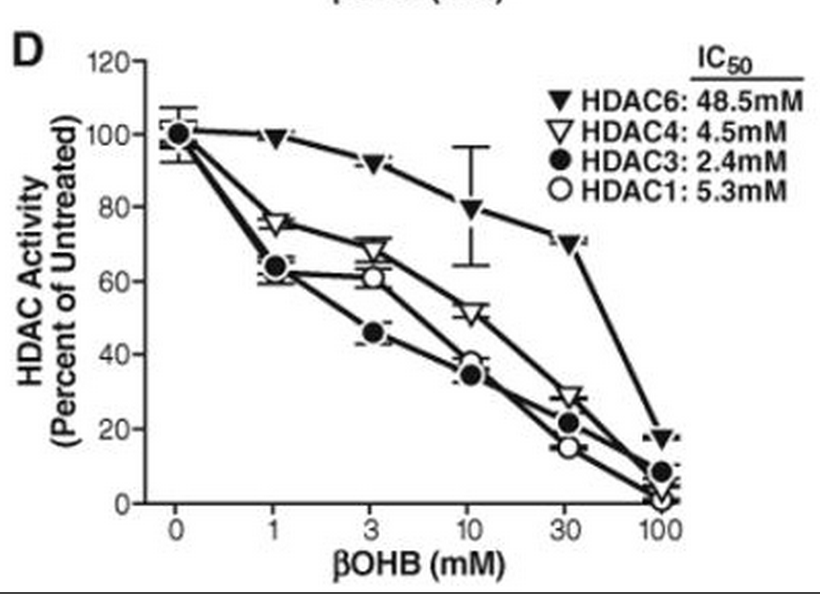 Ketosis/β-hydroxybutyrate can also increase NAD+ levels, which energize us [11].
Part of the mechanism by which ketosis reduces neuronal excitability is by increasing potassium inflow into the mitochondria.
When ATP levels are low – as a result of low glucose – potassium flows in and this decreases the Calcium concentration in the cell. High calcium levels, especially when chronically elevated, send out signals to self-destruct. See picture below: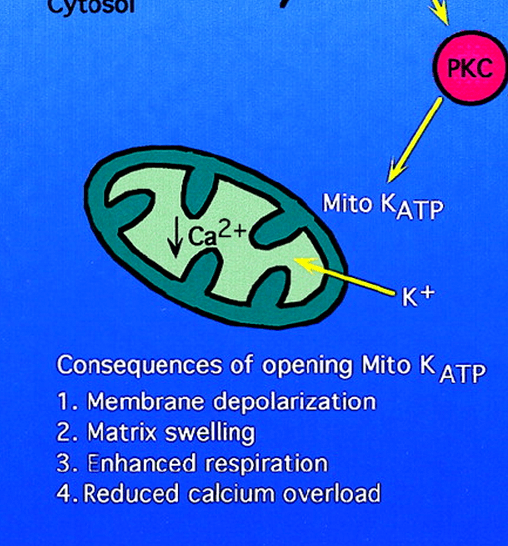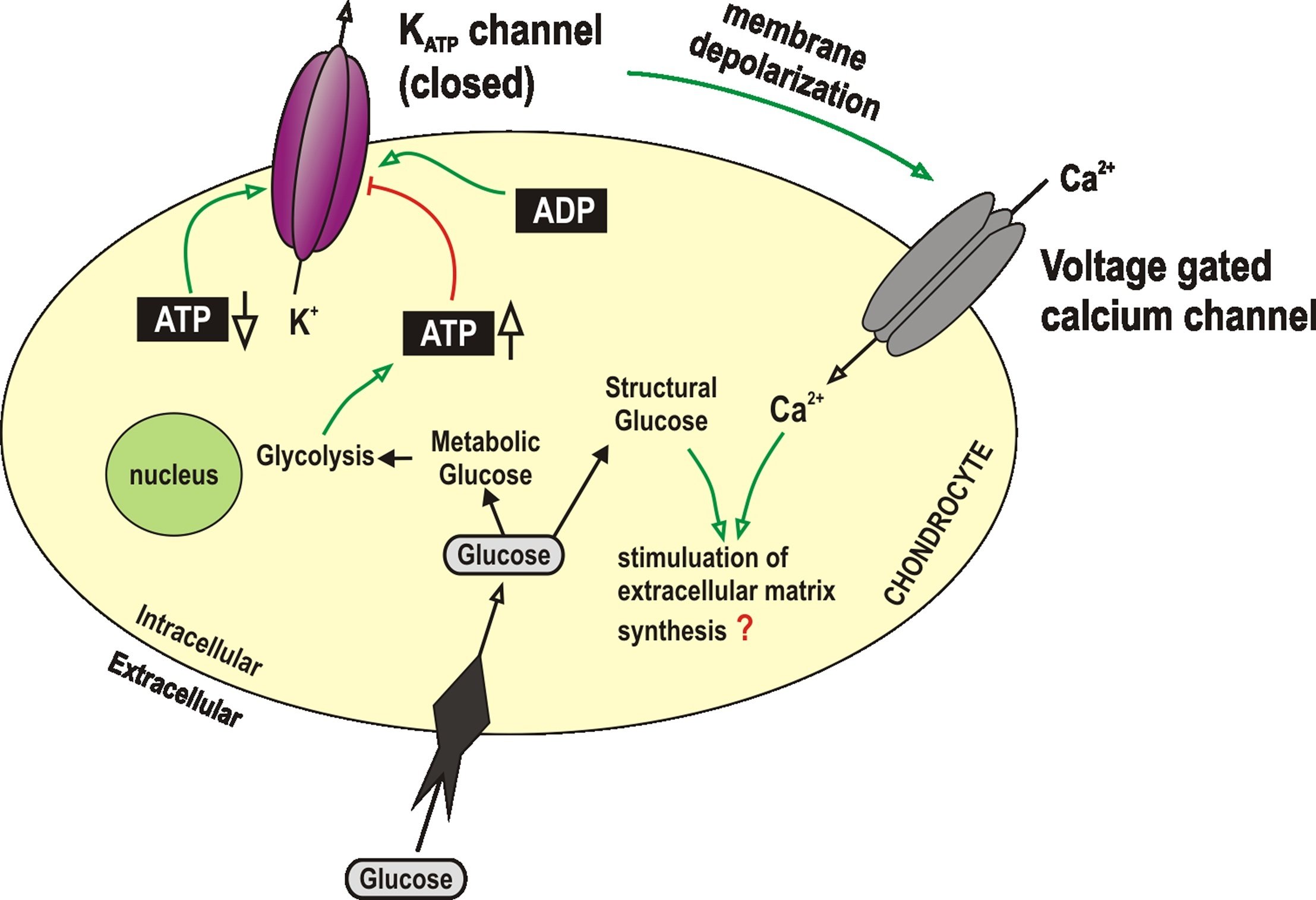 What's Critical For This Protocol
None of these are actually necessary, but I find it makes a significant difference for me.
Highly Recommended: These Help Us Get Into Ketosis More Easily
You don't really need any of these, but I include them. The most important thing by far is that you include caprylic acid above.
You only need to include tea or rooibos, not both. I would've included tea into the necessary for the protocol section, but I realize people may have reactions to them (although I've never seen people have a reaction to rooibos).
Recommended: These Help Us Get Into Ketosis More Easily
I don't include all of these myself, but I've included all of them at least once. If you include all of these, you will probably end up with a headache.
I recommend working down the list one by one, especially if ketosis is not working for you.
Recommended: Nutritional Supplements For Ketosis
You should be drinking a lot of water. This is to prevent constipation and kidney stones. Drinking a lot of tea will help, but you should be drinking a lot of water.
Optional
Leucine, lysine, tryptophan, and phenylalanine are ketogenic amino acids, but only leucine and lysine are strictly ketogenic:
Recommended For Making Ketosis Easier By Giving More Mental Energy
These don't actually help you get into ketosis, but it could make the process more tolerable.
Pathways to Getting Into Ketosis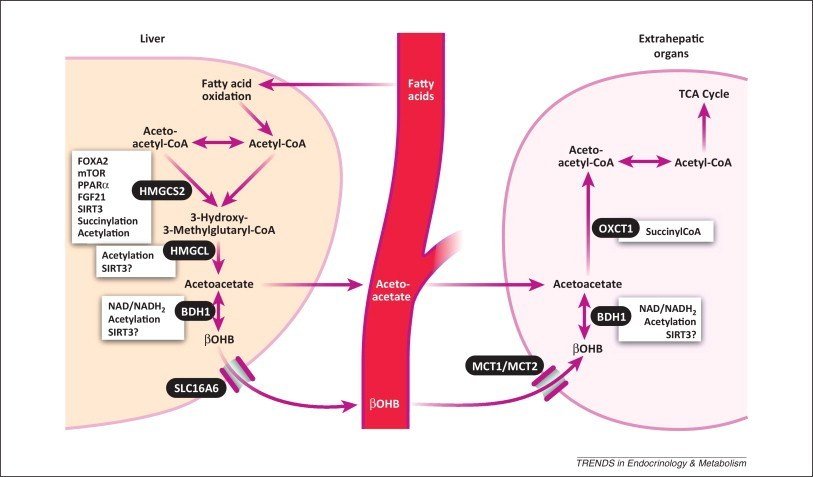 In general, we want to lower blood glucose to more easily get into ketosis. I've placed images below to show you how these mechanisms are working.
General pathways that help us get into ketosis:
(Acetyl-CoA carboxylase inhibition -> decrease of malonyl-CoA concentration -> carnitine palmitoyltransferase I disinhibition -> enhanced ketogenesis) [25]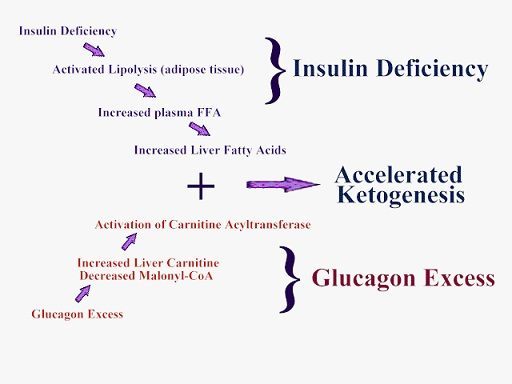 What Can Inhibit Ketosis?
Obviously, carbs… But here are some less obvious ones:
My Ketosis Protocol
My protocol is simple and it's that you don't eat 3 or more hours before bed and you don't eat ANY carbs for the first 11 hours after waking up. Even eating coconut shreds has too many carbs for this protocol.
This combined with Brain Octane will make it very easy for you to get into ketosis.
For me, I try to wake up at about 7 am and go to bed at 11 pm.
I don't eat after 8 PM at all and I don't eat any carbs until 6 pm (on the days I do this protocol). So it's kind of like you've got a carb window. You also want to consume most of your protein in this window.
If I feel excess energy, I'll do some push-ups or use my Pull-up bar.
At 6 pm I'll eat carbs – either raw Honey or some other carbs on the lectin avoidance diet. If going to 6 pm is hard for you, then try to go to 2 pm and work your way up to 6 pm
This would be a good time to include about 50g of Hi-maize because it will fill you up and prevent you from overeating. It also takes about 20 hours to hit and will, therefore, give you some butyrate the next day around the afternoon.
When I eat carbs, I make sure to go for a walk for about an hour and 15 minutes and this is also when I do some errands.
I may include some kombucha here to prevent the suppression of orexin, which causes fatigue.
What's important here that you plan your exercise regime around your carb intake.
If you're drinking kombucha, you want to drink it around your carb intake as well.
However, you can eat whatever you feel healthy from.
When I go for a walk I don't experience fatigue because in general exercise increases wakefulness [40]. I find walking to be the best nootropic for me.
At 6 PM, I have my main meal of the day, and I make sure to include carbs, protein, and fat. Generally, whatever I crave I'll eat. I also try to have kombucha here as well.
I understand that everyone has different circumstances and can't follow the exact same protocol, but the point is to try to hit as many pathways that increase ketogenesis as possible, and this is just one way of doing it. You can tweak it as necessary.
Some Previous Mistakes I Made
The biggest mistake about doing a low carb diet is doing it without getting into ketosis. However, even when I did get into ketosis I had some problems.
You can use Ketostrips to make sure you're getting into ketosis, but I know when I'm in it by the familiar "buzz".
Negatives to This Protocol
My libido goes down and I don't have as much physical energy. This is probably because of reduced IGF-1 from less protein. But it's worth the tradeoff.
Ketosis and Cancer
Some people recommend ketosis for cancer.
Some people who claim authority say that "most cancer relies solely on glucose from the blood as a source of fuel" [41].
This is false. Cancer cells can use ketones for fuel, which will similarly drive cancer growth [42]. Cancer cells can use lactate as well.
There was a pilot study in 10 advanced cancer patients who did a very low-carb, ketogenic diet for 28 days.
4 of the patients continued to have progressive disease, while 5 remained stable and 1 had a partial remission.
The patients who produced more ketones saw the most improvement.
Another pilot trial was done with 16 people using ketosis in advanced cancer patients. Two people died early and most of them quit early because of difficulty.
6 people completed the 12-week trial and they had improved emotional well-being, but it generally didn't halt their disease [43].
It's not surprising that their emotional well- being was better because they probably didn't exercise and ketosis improves mood.
It might be beneficial for some cancers, but the evidence thus far is not too impressive or non-existent, but to be fair the studies so far that I've seen have only been in advanced cancer patients.
If ketosis did reduce cancer, it's probably as a result of reducing IGF-1 and improving mitochondrial function.
Benefits of Caprylic Acid
Brain Octane is simply caprylic acid, so you can buy it from Bulletproof or Amazon (cheaper).
Caprylic acid is something people commonly use for candida and is antimicrobial. I find it better than MCT Oil for getting into ketosis.
Caprylic acid allows us to get into ketosis more easily and also makes us feel full [44]. It doesn't require carnitine, as opposed to other fats [18].
It increases mitochondrial oxygen consumption, which gives our brain more energy [45].
In a double-blind, placebo-controlled trial, caprylic acid improved cognitive function in people with Alzheimer's who weren't on a low carb diet [46]. Another smaller studied showed the same [47].
A review of case studies similarly showed that it was able to slow the decline in people with Alzheimer's [48].
It was able to improve performance in mouse models of ALS [45].
A case report of a 70-year-old man with mild Alzheimer's who used caprylic acid for 109 days resulted in markedly improved cognition. He went from being mildly cognitively impaired to normal.
The guy went from a 23 to a 28 on a test to measure cognitive performance (MMSE). 23 is indicative of mild impairment, while over 27 indicates normal cognitive function [49].
It has anti-tumor properties [50].
My own experiments verify the capacity of caprylic acid to improve cognitive performance and this regimen specifies how to do this in an optimal way.
Ketosis and Weight Loss
In mice, most studies show they lose weight, however, some show that they gain weight.
In the studies showing weight gain, the mice at over 20% of their diet as protein and in the studies that demonstrated weight loss had less than this (23).
Want More Targeted Ways to Enhance Brain Function?
If you're interested in improving your cognitive function, we recommend checking out SelfDecode's Limitless Mind DNA Protocol. It gives genetic-based diet, lifestyle and supplement tips that can help improve your cognitive function. The recommendations are personalized based on your genes.
SelfDecode is a sister company of SelfHacked. The proceeds from your purchase of this product are reinvested into our research and development, in order to serve you better. Thanks for your support!