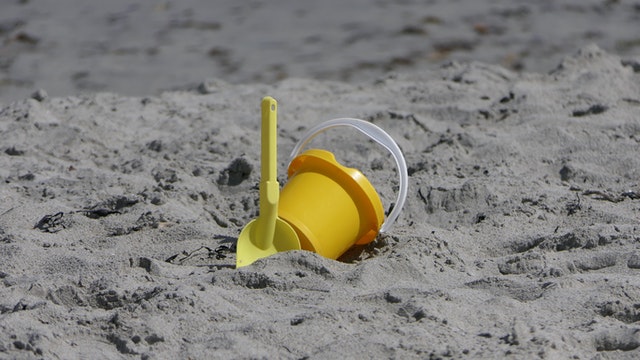 Stress is the biggest thief of joy in history…
You get the big promotion you've wanted since your very first day BUT you're so nervous about starting that you never enjoy the achievement.
You take the big trip your family has been planning BUT the unfamiliar environment puts you on such high alert that you can never truly relax.
You finally have the wedding you've always dreamed of BUT the attention is so overwhelming, you secretly wish it was over.
Let's use this example of a sandcastle to better show you how stress can ruin the fun…
Imagine you're a kid (think 10-12 years old), building a sandcastle –not just some lazily put together mound of sand – I'm talking a real sandcastle.
It takes a long time but you're very dedicated to this sandcastle. You even missed out when the other kids went in the ocean because you were so focused on building this sandcastle.
You finally finish and get up to admire your hard work.
But before you can even stand, your younger brother has dived into and pummeled the sandcastle.
In this example, your younger brother is like stress.
The sandcastle is what you've been working so hard for – it's the promotion you've wanted so bad since your very first day.
And now you've finished the sandcastle – you've gotten the promotion – but before you're even able to enjoy it…
The stress comes to rob that joy.
But it's not stress that's the enemy – that'd be like getting angry at a gun instead of the person shooting it.
Stress can be largely dictated by your genes.
The way your body handles stress can be attributed to a number of factors – and your genes are a factor that can mean the difference between overcoming or succumbing to it.
Looking at your genes can give you all the answers you need to live a life that's no longer controlled by crippling feelings of stress.
For example, my OPRM1 gene variant is associated with a predisposition to being more susceptible to stress, so practicing mindfulness meditation can benefit me more than it normally would for others. Plus, having a more positive perspective on things can help protect me from mood disorders, and it can even help me live longer!
Instead of allowing my stress to rob me of my joy, I took back control over my stress levels by getting in touch with my DNA.
So, the next time you're stressed, just know the answer to feeling better starts in YOU.
P.S. Amazingly, we now have the ability to analyze our DNA and understand why we may be getting so stressed out.
Luckily, SelfDecode 2.0 just dropped a brand-new Stress Report – so you can check if your DNA is playing a role in how you manage stress!
Because even if a certain supplement or diet worked for your favorite health guru on Instagram, that doesn't necessarily mean it will work for everyone.
Our new Stress Report uses your genes to come up with a prioritized list of recommendations that are specific to YOU – so you'll have EVERYTHING you need to take action with SelfDecode 2.0!
If you'd like to learn more about how your genes might be increasing your stress levels, click below to get this comprehensive DNA report that anyone can understand.