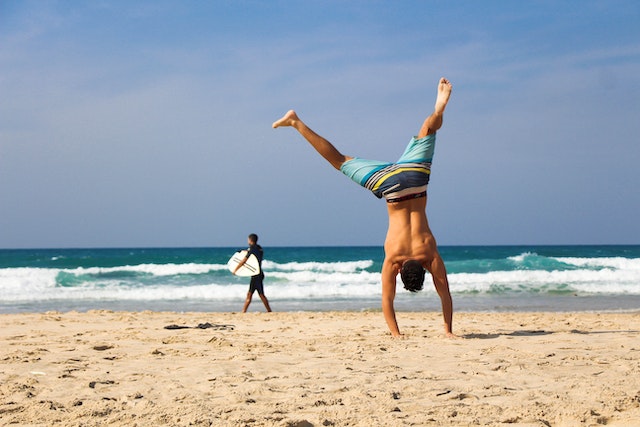 Caveats
These are MY personal favorites, and I don't expect other people to respond in the same ways as me necessarily. SelfDecode has been instrumental in helping me find the best lifestyle and supplements to take for me.
I can look at my genetic predispositions, experiment with the recommendations, and look at the research and lab tests to find what works best for my body.
I always suggest that you follow a health regimen personalized for you. For that, I recommend SelfDecode, which tells you what the top recommended lifestyle and supplements are for your unique DNA.
Health Breakthroughs
My Top Lifestyle Changes
These health behaviors I feel led to quite significant breakthroughs in my health.
Lectin avoidance/dietary changes to fit my genes (avoiding all grains & beans – dairy and eggs as well for me…Can check your genetics to see what you're sensitive to) – inflammation, cognitive function, mood
Sun tanning – mood, inflammation
Sunlight – mood
Exercise & Resistance training – mood, cognitive function, testosterone
Sleep mask – sleep
Dimming light at night/blue blockers – sleep
Alcohol/drug avoidance
My Top Supplements
Discovering these substances were quite significant in the areas mentioned.
5HTP – mood
Resistant Starch/Butyrate – food tolerance, mood, cognition
Niacin – food tolerance, energy
Thiamine – mood
Methylfolate – mood
LSD or Mescaline (sub-visual dosing) – extraversion, energy
Pregnenolone – motivation
Shilajit/Fulvic/humic acid – energy, immunity
Fish oil – inflammation, mood
Curcumin (Longvida) – inflammation, mood
Ergothioneine – energy
Berberine – APOB, blood sugar, longevity
K2 – gums
Rhodiola – mood
EGCG – mood
Zinc – mood, immunity
Lithium orotate – mood
TUDCA – food sensitivities, APOB, Gut, Thyroid
Tryptophan – food sensitivities
Boron – Testosterone
Biotin – immunity, energy
Emoxypine – mitochondria
NADH – energy
Oroxylin A – cognitive function, social
Avena Sativa – cognitive function
Ecklonia Cava – cognitive function
Nutritional yeast – APOB
Tea/EGCG extract – mood
Beta alanine – energy
Glycine – immunity
Rapamycin – longevity, food sensitivities
Supplements That I Like A Lot
These weren't breakthroughs per se, but they were all helpful.
Thyroid Glandular
NAC
Citicholine
Astragaloside 4
Apigenin
Acetylcarnitine
Anthocyanins (Bilberry/Grapeseed/Blueberry/Bergamot) – mood, inflammation, circulation
Kelp
B12: Methylcobalamin – mood
B6: Pyridoxine – mood
Myoinositol – mood, glucose tolerance
Potassium citrate/butyrate/bicarbonate – blood pressure
Ashwagandha (Sensoril) – mood
Bacopa (Ebelin lactones) – mood
Celastrus – cognitive function
Gynostemma – energy, cognition
American Ginseng
Lion's Mane
Paraxanthine
Chocamine
Tongkat Ali – libido, testosterone
Activated charcoal – detox fro plastics, kidney health
Oregano oil (enteric-coated) – SIBO
PQQ – energy
Glycine – general
Carnitine – energy, immunity (some long-term risks here though)
Chocamine/Paraxanthine/Snus – cognitive funciton, stimulant
Magnesium – mood
TMG – mood
Spermidine – mood, energy