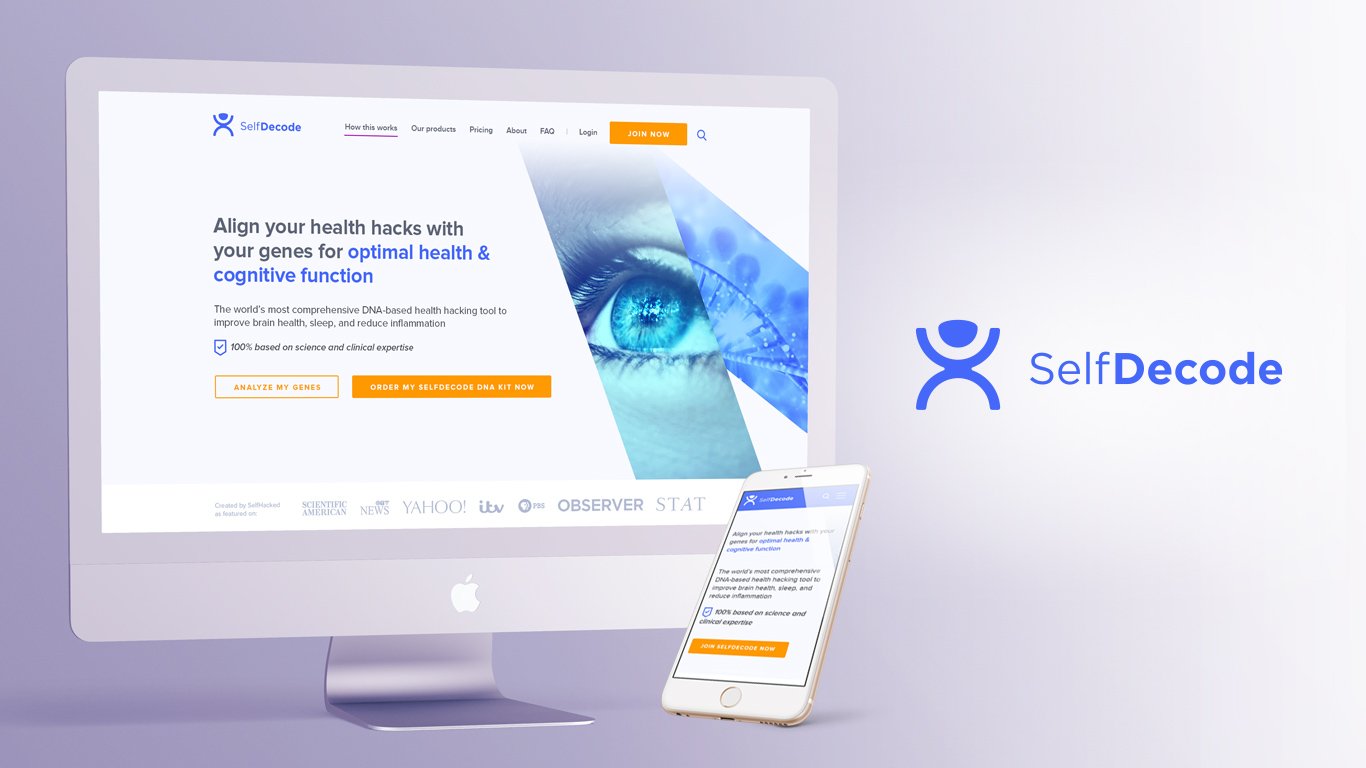 What is SelfDecode?
SelfDecode is a biotech company that helps people understand their genetics to achieve their health goals – be it optimizing their health, overcoming a health concern, or preventing diseases and age-related problems to live a longer life.
It lets you identify genetic weaknesses and suggests lifestyle approaches and supplements to improve your negative genetic variations.
SelfDecode has a huge database of SNPs, substances, genes, conditions, and more.
SelfDecode Coupon Code
As a SelfHacked reader, you can get 10% off SelfDecode. This coupon code will always work.
Want to try before you commit to a plan? You can upload your DNA for free to SelfDecode!
Review of SelfDecode History
Joe Cohen, founder of SelfDecode, shared his story about how and why he started SelfDecode:
Joe said he started SelfDecode after struggling with numerous chronic health issues – such as limbic system problems (also called HPA axis dysfunction or adrenal fatigue), brain fog, gut problems, and mental health issues, among others. He says that for years, he didn't get results by following the advice of other bloggers, medical doctors, or even natural health practitioners. Instead, he started hitting breakthroughs when he dug into the research for himself and committed to experimenting with supplements, diets, and devices.
Joe has said numerous times that he won the genetic lottery for a combination of rare bad genes, such as being homozygous for MTHFR C677T and CNR1 rs1049353. These rendered him especially susceptible to the negative effects of the Standard American Diet and lifestyle. All the while, I was eating a diet full of gluten and dairy, sleeping poorly, and living in a toxic environment.
Joe also had some rare SNP variations in the PPAR-gamma and serotonin receptors genes, which may explain his tendency to be Th1/Th17 dominant. He believes it may also be the reason he experienced mental health issues when eating lectins or did other things that worsen these genes' functions.
At the time, health bloggers were not writing about these genes and he wasn't able to meaningfully analyze his data with the available DNA tools.
The health hacks that had the most positive impact for Joe were ones that addressed his genetic variants. While doing the research and experimenting, he gathered information about many useful gene-specific interventions.
Afterward, he started reverse-engineering the same process for my clients to help them overcome their health issues. That's when he realized that there was a need for a comprehensive DNA analyzer.
The existing DNA analyzers on the market may have provided some information but they were extremely limited. Some of them did not cite the information they provided, which allowed them to make up some of the information and unable to be validated. Others provide citations, but it was more difficult for Joe to understand their interpretation than reading the studies directly.
Many of them weren't very helpful because they didn't come with any recommendations.
Understandably, it is not easy to write about genes, the biochemistry, and risk associations for the lay people to comprehend. Over the years, Joe honed this skill by writing on SelfHacked and training numerous writers, who hold Master's, Ph.D., MD, and pharmacy degrees.
Beyond the fact that SelfDecode covers over 83 million genetic variants, it also:
Thoroughly reviews the scientific literature about genes or lab tests
Presents the research in an accessible and helpful manner, both for the lay people and healthcare providers
Is constantly updated with the growing amounts of data that continue to become available with new sequencing technologies, functional genomics, and new research being published every day
SelfDecode is an all-in-one database tool that allows you to explore your genetic associations with your phenotypes (traits), health predispositions, and what you can do about them. If you want all the relevant variants listed in one place, along with an interpretation and recommendations, the DNA Health Reports provide just that.
How Does It Work?
In fact, using SelfDecode is so simple. Just follow the listed below steps to get full details about your genes:
Sign in to your account and upload your genetic data from genotyping services such as 23andMe, FamilyTree and Ancestry or purchase a SelfDecode DNA Kit directly from us (SelfDecode promises to never sell your data). If you already have your DNA file, you can upload it for free.
Answer our questionnaire and lifestyle assessment to understand how your environment is affecting your health risks.
Generate and read your DNA Wellness Reports on the topics that pertain to your health such as inflammation, sleep, mood, and more!
Optimize your health based on the insights you learn about your genes and the recommendations SelfDecode provides.
Features Released Since Launch
SelfDecode believes that the future of health content will be personalized. The SelfDecode blog is the first of its kind–it personalizes posts based on your genetics. They analyze cutting-edge scientific discoveries to explore how your genetic variants are linked to health and various traits.
Once you log in to your SelfDecode account and upload your genotype file, you will be able to access health information specific to you. From each article you read, the smart algorithm will also calculate and automatically display a score and recommendation that applies to you.
SelfDecode DNA Health reports compile all the available genes and variants relevant to a specific topic and give you science-based natural recommendations about how you can overcome your genetic weaknesses.
SelfDecode offers over 250 DNA health and trait reports, each analyzing up to 1.5M genetic variants. In fact, SelfDecode is the only company utilizing polygenic risk scoring in the direct-to-consumer market.
Professional plan subscribers have unlimited access to DNA Health Reports per client added.
Lab Analyzer
SelfDecode's Lab Analyzer tool allows you to easily upload your lab test results and find out if your lab markers are within optimal ranges. The lab analyzer doesn't just show you what the "normal" range is for a lab marker, it shows you the optimal range and then provides personalized health recommendations to help you optimize your levels.
You can track your lab tests over time and get detailed information about each lab marker and what your personal results mean.
Lifestyle Analyzer
The lifestyle assessments help you identify how much of an impact your lifestyle, environment, and medical history are having on your health risks.
Gene & SNP Explorer
A SelfDecode subscription will give you access to a database of 83 million genes, SNPs, and health conditions to help you explore your DNA. You can also create gene packs and bookmark any genes that you want to check out later in more detail.
For practitioners, you can look at gene packs of interest to your clients.
Ancestry
Discover your heritage with SelfDecode (available only with Health & Ancestry Insights). Get a breakdown of your ancestry composition with percentages, trace your maternal lineage back through the ages, and learn more about the history and culture connected to your DNA with detailed reports.
How Much Does SelfDecode Cost?
For users who already have their DNA file, SelfDecode offers an annual subscription for $99/year.
If you need a DNA kit, SelfDecode offers two options:
Our DNA chip analyzes the most important SNPs related to your health. While you do not have to purchase a SelfDecode DNA kit from us, we recommend you do, because our chip contains all the data you need to analyze and optimize your health. Plus, we don't sell your data like 23AndMe. There is an additional shipping cost for DNA kits which varies based on your location, but return shipping costs are covered.
The annual subscription will give you unlimited access to over 250 DNA Health Reports, Lab Test Analyzer, and other tools.
If you already have a DNA file, you can upload it to SelfDecode for free before committing to a plan.
Why a Subscription?
Although you are born with a set of genes that won't change over time, our knowledge about these genes changes every day as new research comes out. SelfDecode is a fast-evolving startup software company. We are continuously releasing more features, personalized genetic blog posts, and DNA Reports. A subscription model provides you with uninterrupted access to updated findings of your genes, our new analysis features, and DNA Health Reports.