In our last Wefunder campaign, we were able to use the money to bring together a large group of geniuses to make SelfDecode the most cutting-edge product on the market. Now, SelfDecode is already making its way into health markets all over the world.
There were two problems that were holding back genetics from entering mainstream medicine today, and we've succeeded in solving these two problems with our software.
Problem #1: Ancestry needs to be accurate
The 3 companies that accurately compute ancestry are 23andMe, Ancestry, and MyHeritage and their main focus is ancestry, not health.
All of these are multi-billion dollar companies, and that's because ancestry is not easy to predict well.
So, we put our algorithm to the test against these multi-billion dollar companies. The results?
Our algorithm outperforms all of their algorithms! The chart I've attached below shows that we achieve an accuracy of over 75% for 100% of populations within the 1KGP dataset and for 75% of populations within the custom data panel. The other models struggle with about a third of the populations, where their accuracy falls below 50%.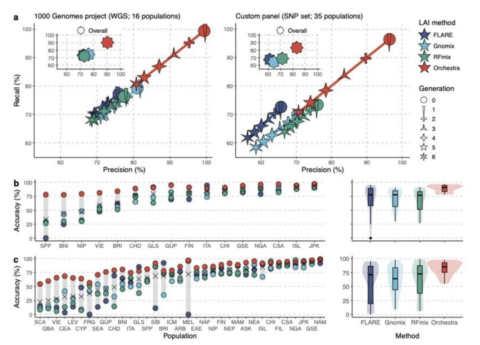 So now that we have cutting-edge ancestry, what's the next step?
Problem #2: The accuracy of imputation is crucial
Whole genome sequencing fully captures genetic variations but is still way too expensive and commercially unviable for larger datasets.
Instead, the overwhelming majority of DNA health companies rely on cost-effective genotyping arrays which capture a small set of variants. Looking at these low number of variants can't give you even close to a full picture of your health – it's like asking your magic 8-ball a question and hoping it gives the right answer.
With imputation, the algorithm fills in the gaps of missing information, using the array variants already available as a reference. The accuracy of imputation, therefore, is crucial for literally every other application of the algorithm – from your polygenic risk scores to your genealogy.
The charts below might not make sense, but essentially what it indicates is that we outperform leading imputation methods across all allele frequencies, performing exceedingly well for rare variants, where all other models struggle. This is extremely important because rare variants are more likely to be of medical significance.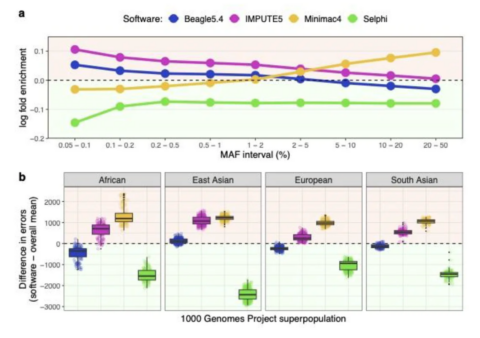 You can get more in-depth detail on this chart and the chart above on our WeFunder page.
This is only the beginning
Now that the problems have been solved through our revolutionary technology, we've only just begun.
We've already signed 26+ B2B partnerships that are utilizing our algorithm.
All of these companies have partnered with us because in order to get the best predictions, you need cutting edge probability & statistics to analyze your DNA and lab results – something that only we offer!
As I stated before, it is extremely expensive and time consuming to create a precision health software like SelfDecode. Plus, you'd need some of the top minds in this space to make it an effective product.
Investing in SelfDecode is not just about making a great investment or being part of the AI revolution sweeping the globe…it's about being a part of our mission to make a difference in the world by empowering people to take charge of their own health.
Together, we can bring about change and improve the health of the globe.