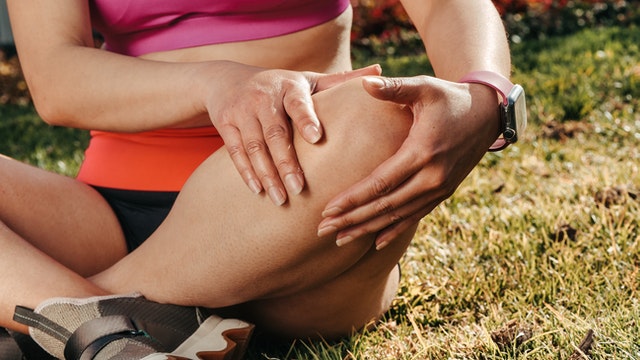 Imagine a world in which you no longer need to go to the doctor to treat your health issues because you can prevent them from ever happening.
Now, what if I told you that this world isn't a fantasy, but something we are helping to make a reality?
I have spent nearly my entire career as a physician-scientist to turn this dream into a reality for everyone. Let me introduce myself. I'm Dr. Puya Yazdi, the Chief Science and Medical Officer at SelfDecode. Everyone around here just calls me Puya.
The first thing you should know about me is that I love genomics! When I first heard about it during my residency at Stanford, I decided to dedicate my life to it. Why? Because I saw that it could help transform everyone's health in the 21st century. Genomics for all, I jokingly call it.
As a physician-scientist, I firmly believe that we can use the power and promise of genomics to not only optimize our current lives, but keep them optimal for the future. That's how I use SelfDecode, and that's exactly what I believe SelfDecode can be for you.
Genomics is a powerful tool of prevention. Let's use the example of our joint report. Do I currently suffer from any joint problems? Not really.
But I know that most of us will suffer from joint problems at some point in our lives. As we age, wear and tear breaks down the cartilage in our joints. Cartilage is what allows your joints to move smoothly. Over time this gets worse and worse for some people, and can lead to pain and stiffness. The medical term for this disorder is osteoarthritis.
Osteoarthritis is incurable. Once you have it, all you can do is try to reduce the pain and learn to live with it. That's why my best advice to people is to do everything they can to avoid getting it. SelfDecode's joint pain report gives you the tools to do that.
When I read my joint report, I saw that my genetics gave me an average risk of developing joint issues. That's not bad, but genetics isn't everything, and I want to be one of those old people who can still walk up a mountain or surf at the beach! So, I looked at the recommendations to see what I could do today, in order to give me the future that I want.
My report says (as I would to you) that exercise and maintaining a healthy weight are the most impactful steps to take. This is good advice for a lot of health issues. By exercising and managing my weight, I've already taken steps to lower my risk of developing osteoarthritis. But my joint pain report helped me take this one step further.

I found out that I carry a specific variant of the COL11A1 gene that lowers the production of collagen, which is a key component of joint cartilage! Because of this, my cartilage may wear down faster than other people's as I grow older. So an ideal thing I could do for my joint health today is to increase my collagen.
Here is where SelfDecode really proves itself as a revolutionary genomics platform. The report uses this information about me to recommend a supplement called avocado/soybean unsaponifiables.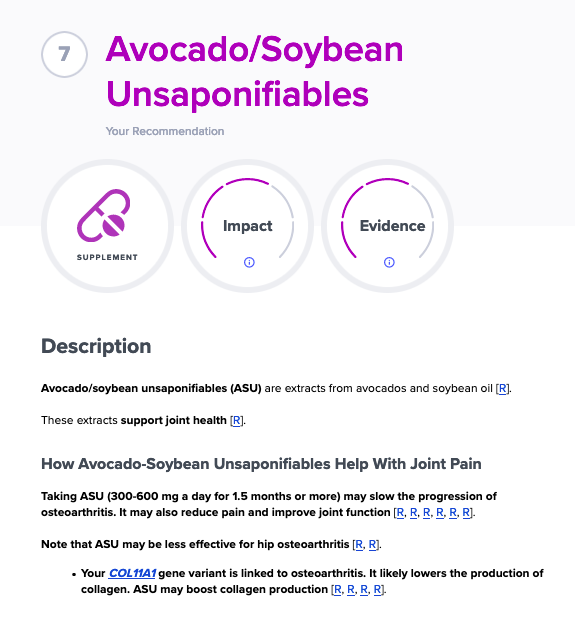 In people suffering from osteoarthritis, this supplement has been clinically shown to reduce pain and stiffness, improve joint function, and decrease reliance on painkillers. Additionally, animal studies have shown that avocado/soybean unsaponifiables increase collagen production!
Now, we can put two and two together. Given my genes and the clinical evidence, this supplement would be an ideal choice to help maintain my joint health and give me the best chance of preventing osteoarthritis further down the line. And the best part is that you don't need to be trained as a physician-scientist to figure this out! It's right in your SelfDecode joint pain report!
That's why I believe in this platform so much. It turns the latest research into easily digestible actions you can do today, to create a better future for yourself. That is why I have made it my life's mission to bring the power and promise of genomics to the masses and create a better future for all of us.