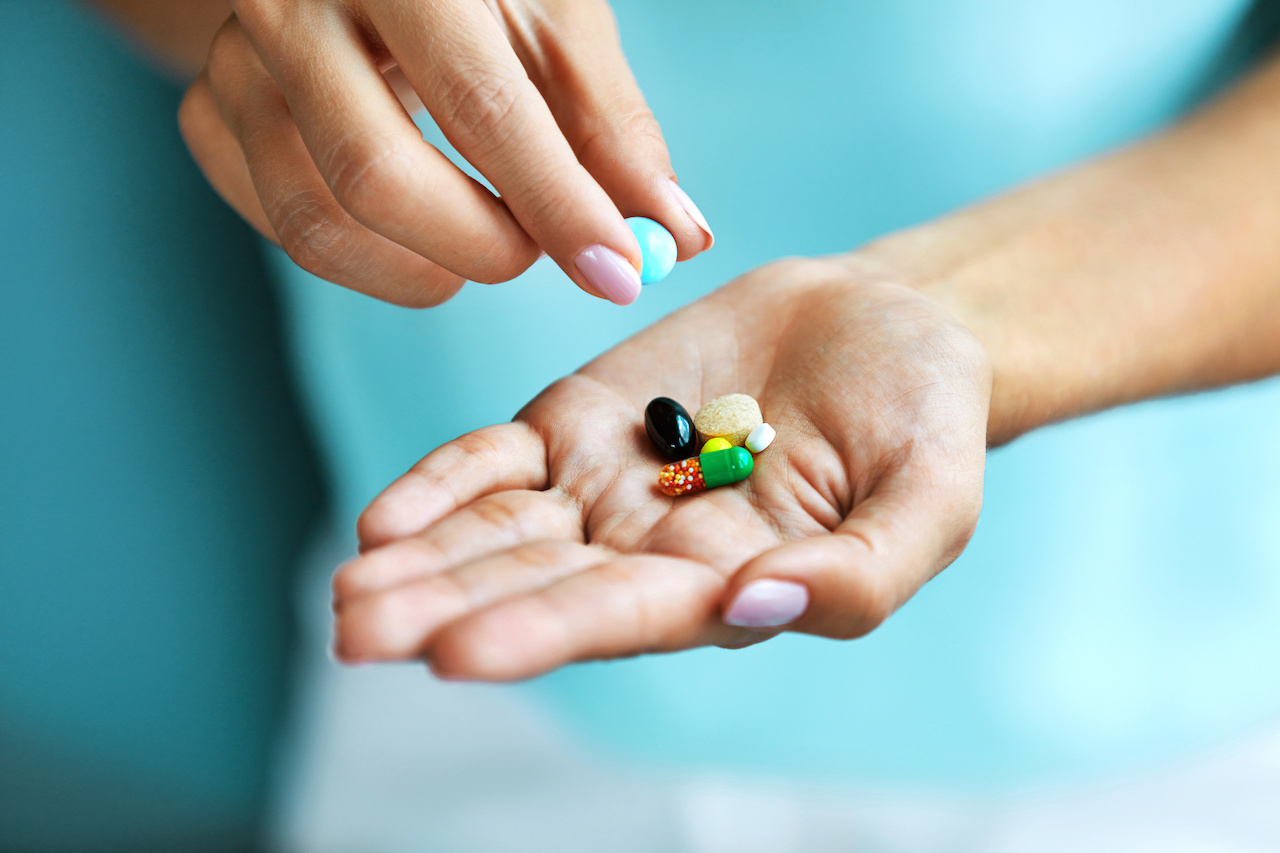 "What supplements do you take?"
I couldn't even begin to count the number of times I've been asked this. Over the years I've literally tried hundreds of supplements to test which ones work best.
Now, after years of testing, I've narrowed it down to 6 supplements that are my absolute favorite.
I love these supplements because they actually work to fix some of my genes that don't work very well and cause a lot of problems with my health.
A lot of people don't realize it, but you aren't just stuck with your genes. You can change the way they function by turning them on and off. It's called epigenetics.
All of these supplements turn on or off certain genes to help improve specific health issues that my genes naturally make worse.
My 7 Favorite Supplements
There are at least 17 benefits of butyrate (which you can read all about on SelfHacked!), but the main reason I take butyrate is to balance my gut and lower inflammation. When you don't have enough butyrate-producing bacteria in your gut, like me, you may be more likely to develop gut inflammation.
Butyrate has also helped improve my memory drastically! That's because my genes naturally result in decreased brain-derived neurotrophic factor (BDNF) production, while Butyrate helps to increase it.
I have many genes that increase Th1 and Th17 related inflammation. These genes are related to lectin and food sensitivities as well.
I've been keeping an eye on which genes contribute to food sensitivities the most and found 11 critical genes. I actually have risk in 10/11 of them, which is no wonder why I have food sensitivities.
Out of these 11 genes that I have found to be connected to food sensitivities, 10 of them are related to Th1/Th17 balance.
Curcumin & fish oil are the most powerful supplements that counteract the overactivity of the immune system, especially from overactive Th1/Th17.
These supplements are critical for me and I've been taking them for over 10 years religiously.
Doctors have been using lithium to help stabilize moods for a long time. Lithium orotate is an over-the-counter supplement that contains low doses of lithium, which many people find extremely beneficial. I take about 10mg of lithium orotate every day to help improve my mood and cognitive function.
However, there are some important things to consider when it comes to lithium orotate dosage. Read more on SelfHacked to find out what dosage of lithium orotate might be right for you.
5-hydroxytryptophan (5-HTP) is an amino acid that serves as a precursor for the biosynthesis of serotonin. Since some of my genes reduce the amount of serotonin (aka the happiness hormone) that my body produces, it's important for me to increase serotonin levels with supplements like 5-HTP.
Ever since I started taking it, I've found that my mood is very balanced.
I drink a shake almost every day that includes folate-rich brewer's yeast with some methylfolate and other B complex vitamins mixed into it. I have the bad version of the MTHFR gene, so this type of brewer's yeast is really helpful for lowering homocysteine and improving methylation.
Brewer's and nutritional yeasts have many other health benefits, such as improved energy and mood, healthier skin, weight loss and more! Find out what other amazing benefits you can get from supplementing with brewer's yeast on SelfHacked.
I supplement with a 300mg capsule of choline every day to help improve my focus and boost my cognitive function.
Alpha-GPC increases myelination and builds acetylcholine, a neurotransmitter that maintains your cognitive and muscle functions. Increased acetylcholine is particularly helpful for the CHRM2 and CHRNA5 genes, which I have the bad versions of.
It helps increase my REM sleep as well.
Learn More About Natural Supplements To Fix Your Health Issues
You can read all about these supplements (and MANY more!) on SelfHacked, which started out years ago as my own personal health blog and has now grown into one of the most reputable and widely used health information sites for people looking for natural and alternative options.
As I mentioned last week, SelfHacked has transitioned into a subscription service. We've realized that this is the only option for SelfHacked since Google has continued to penalize alternative health websites like ours and without that source of traffic, there is no way to break even on costs.
However, we've made sure that subscribing to SelfHacked gets you access to so much more than just our health articles. We're also including access to our genetic and lab test analysis tool, SelfDecode, at no extra cost.
When you combine the knowledge you get from SelfHacked articles with the personalized gene and lab-based health recommendations from SelfDecode, you'll be able to do exactly what I did and build the perfect health regimen for YOUR body.
You see, all of my favorite supplements are recommendations from my SelfDecode DNA reports. If I'd had my SelfDecode reports when I first started trying to fix my health issues, I wouldn't have had to try hundreds of different supplements to see which ones would work the best.
With SelfDecode, you don't have to go through the trouble I did. If you want to optimize your mood, you just download your mood DNA report and follow the prioritized recommendations that have been personalized for your DNA. Then, just follow the links to SelfHacked articles in the reports to get all the information you could want about the recommended supplement, diet and lifestyle recommendations.
Subscribers will have access to:
ALL SelfHacked articles (ad-free!) – Read from over 1500 science-based health articles that go in-depth on the benefits of natural supplement and lifestyle health changes.
SelfDecode Personalized Genetics Blog – 400 personalized genetics articles help you get to the root cause of your health issue using your unique DNA.
Personalized DNA Wellness Reports – in depth genetic reports on topics like gut health, thyroid, mood, longevity, sleep that provide you with recommendations specific for your body, so that you can solve any health problem you're experiencing.
Lab Test Analyzer tool – Upload your lab results and discover how you can get your levels to the optimal range. We analyze ~1000 labs. We will add any lab that we don't have!
and so much more!
You can get all of these with one single subscription, for ONLY $8/month (billed annually).
Hurry though, because you want to lock in your rate now to get ALL THREE: SelfHacked, SelfDecode and Lab Test Analyzer at no extra cost. This is a special offer for our community that gives you the benefit of all three tools in ONE subscription.
This is truly the best investment you can make in your health today. And it'll cost you less than a smoothie each month.